Brian Sikes
President and Chief Executive Officer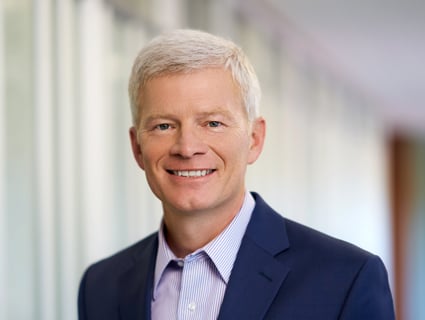 Brian Sikes was appointed to serve as President and Chief Executive Officer of Cargill in Jan. 2023. He is the 10th CEO in Cargill's 158-year history. During his more than 30 years with the company, Brian has been known for his relentless focus on people and culture, as well as customer-driven transformation and growth.
Brian began his career with Cargill in 1991 and joined the executive team in 2019. Most recently, he served as Chief Operating Officer, where he was instrumental in constructing the company's long-term strategy. With broad experience across multiple businesses, cycles, and geographies, Brian has held leadership roles in the U.S., Canada, and Europe. He brings proven experience leading operations, commercial teams, and talent management, as well as a strong record of business operational rigor.
Prior to serving as COO, Brian led Cargill's global Protein and Salt enterprise, growing the business into an industry leader. He previously led the transformation of its North America protein business, delivering expanded offerings in line with shifting demand for value-added protein, sustainable supply chains, and alternative proteins. He also led Cargill's protein business in Europe, and was President of Cargill's Foodservice team.
From his time on the floor of Cargill's beef plant in Plainview, Texas, and throughout his three decades with the company, Brian has been a passionate advocate for workers on the front lines of the food system. He is known in the industry for developing a deep bench of leaders and mentoring people with unconventional career paths.
In addition to his role as CEO, Brian serves on Cargill's Board of Directors, the Board of Directors of the U.S.-China Business Council, and is a member of the World 50. He holds a bachelor's degree in agriculture economics from Texas Tech University.