Pilar Cruz
Chief Sustainability Officer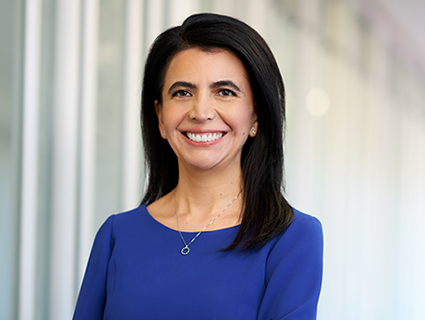 As Cargill's Chief Sustainability Officer, Pilar Cruz is responsible for leading the company's efforts to drive transformational change in delivering sustainable supply chains for customers around the globe, while making agriculture part of how we deliver on the United Nations' Sustainable Development Goals. This aim is core to Cargill's purpose to nourish the world in a safe, responsible and sustainable way.
Pilar also leads Cargill's global Communications and Corporate Responsibility functions, which includes advancing partnerships focused on accelerating progress on climate, food security, human rights, and women's economic empowerment.
Prior to her current role, Pilar served as president and group leader of Cargill's global aqua nutrition business. Under her leadership, Cargill launched its SeaFurther Sustainability initiative, designed to help the company and the broader seafood industry reduce its carbon footprint.
With over two decades of business and operations experience, Pilar brings a global and diverse perspective to the Executive Team. Her career with Cargill – including leadership positions across the protein and animal nutrition businesses, as well as leading the global Corporate Strategy and Development function – has brought her from the plains of the south central United States, to Brazil, Canada, Costa Rica, Nicaragua, several European countries and the United Kingdom.
Outside of Cargill, Pilar serves on the Board of Donaldson Company Inc. – a Minneapolis-based public company, and a global leader in engine and industrial air, oil and liquid filtration solutions. Additionally, Pilar was appointed to the World Food Program USA's Board of Directors, an organization Cargill has been working with for over 20 years. Together, Cargill and WFP USA will continue to work toward sustainable solutions that end hunger and malnutrition, so every family in need has access to safe, nutritious and affordable food.

Originally from Bogotá Colombia, Pilar is the first Latina promoted to Cargill's executive team. She has a Bachelor's degree in Economics from the Universidad de Los Andes and a Master's degree in Business Administration from the University of Michigan Ross School of Business.