Technology
Technology in protein production is more than a trend. It's a reality that will continue to adapt, evolve and advance. Like never before, innovation is happening at a rapid pace.
Successful producers use many innovative technologies and methods to operate more efficiently. From drones that analyze animal health to predictive nutrient computer models, the tools are remarkably sophisticated. This helps farmers improve productivity, sustainability and animal welfare using fewer resources. A bonus: farmers can plan and predict with greater certainty than ever imagined.
The precision, speed and relevancy of new data and technologies will continue to help farmers make better, faster and more informed decisions to feed a hungry world – and to protect the environment at the same time. Those who embrace new technologies and adapt to the changing landscape and marketplace stand to benefit the most.
Technological innovation is all about providing tools to help take farmers to the next level. Farmers can leverage data to inform, guide, predict and be an interpreter of change for other producers, consumers and the world at large – all while ensuring global responsibility and animal well-being stay front and center.
Digital Disruption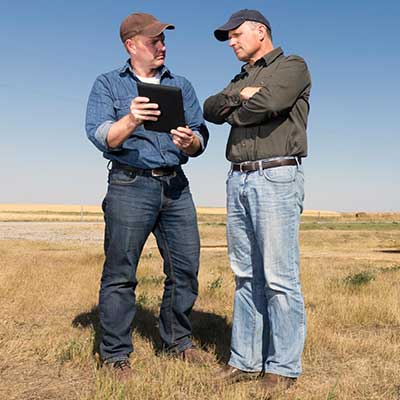 Digital technology is transforming the animal production industry. The result? A completely different method of decision-making.
Today, producers collect and integrate real-time data from a wide range of internal and external sources. There's no shortage of ways to gather data, but it can be a challenge to glean insights that inform what to do.
Cargill's digital tools and properties help producers understand and interpret data to improve animal health, productivity and more. These solutions give farmers a market advantage, while allowing for simple, practical decision-making through the entire value chain.
One of the most compelling cases is in technology and animal welfare. Today's tools can signal specific needs of animals before any human eye could recognize an issue. Some examples include:
Poultry: Real-time scans of barns and houses give insights on how to better arrange spaces for the animals' comfort. If a producer sees groupings of birds in one area on a cold day, for example, they can troubleshoot and adjust heat sources to provide full coverage of the animals' space.
Aquaculture: Shrimp producers can use digital tools and modeling to measure how shrimp grow day-to-day and predict the date that will provide the most profitable harvest.
Beyond farm management, technology helps producers connect to consumer needs. Consumers increasingly want traceability, sustainability and a full understanding of where their food comes from. As preferences evolve, producers will need to evolve, too, leaning on technology to stay ahead.
Technological Offerings for Animal Producers
Through Cargill partnerships and offerings, producers have an array of technologies that align the protein production chain with consumer demands. These advancements provide the information and insights needed to make better, more informed decisions.