Diamond V
The Trusted Experts in Nutrition and Health®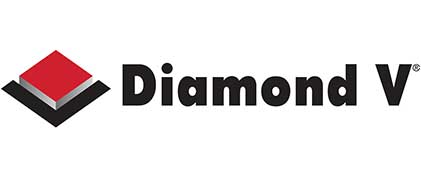 For 80 years, Diamond V® has lead in the research, development and delivery of unique microbial fermentation products for animal nutrition and health to achieve optimal food safety and cost-effective production.
Diamond V's global team of scientists, research technicians, and experts in the field constantly discover new opportunities to positively impact our customer's profitability. They work across all food and companion animal species with a wide range of customers to develop research initiatives and technological innovations.
Diamond V's brand promise:
The Trusted Experts in Nutrition & Health®
Diamond V's commitment and promise to all customers and consumers:
To create safe, effective, innovative products to meet current and future needs.
To transfer science-based knowledge and achieve sustainable, profitable solutions.
To build relationships that result in trusted, enduring partnerships.
Diamond V® strives to make a positive, sustainable difference. Their natural products and technical services enhance animal health and performance and support profitable solutions for our customers.
As The Trusted Experts In Nutrition & Health, Diamond V® is:
Science-based and research-focused
Innovative in technologies and applications
Unmatched in technical expertise
Committed to safety, quality, and customer service
Proven as an industry partner
The recognition, support, and trust of animal nutritionists, veterinarians, and producers has been our foundation — how Diamond V® grew to become the largest and most respected manufacturer and marketer of unique microbial fermentation products worldwide.