Swine Nutrition and Production Solutions
Solutions that help improve your pork business
We know that every day, you confront the challenge of trying to optimize profits while competing in a global marketplace. In recent years, feed costs and pig revenues have become more volatile, making your job more complex. Variability in feed ingredients, production flow, swine genetics, regulations and new technology also increasingly play a role. The challenge is managing all of these factors while also optimizing profits to ensure your commercial sustainability, something we aim to help you to successfully resolve.
Swine solutions
To ensure you have the right sow solutions to achieve the best healthy piglet performance feeds to maximize young pig intake and gain, and the most profitable finishing solutions to fit your business goals, we offer a wide range of solutions, including:
Nutrition solutions
Factors such as harvest conditions, storage, and processing can greatly impact the nutrient levels and digestibility of feed ingredients, yet you need exact nutritional values for your animals to ensure maximum performance and profitability. We can support your ingredient sourcing and nutrient analysis activities better than anyone, whether you are looking for complete feed, premix or concentrates. We do this by combining practical on-farm knowledge with scientific excellence:
500+ research and development professionals, 200+ of who are PHDs
30 Near-Infra-Red (NIR) experts, along with NIR machines around the word and a global ingredient database of more than 2 million samples per year
14 wet chemistry labs
15 Technical Application Centers
Our solutions are tailored to meet your pigs' exact nutritional needs. Central to our nutritional solutions is the Cargill Nutrition System. This uses big data analysis and tools to mine information from the world's largest database of nutrient samples, cutting-edge research from our innovation teams, and internal know-how in feeding animals and formulating diets.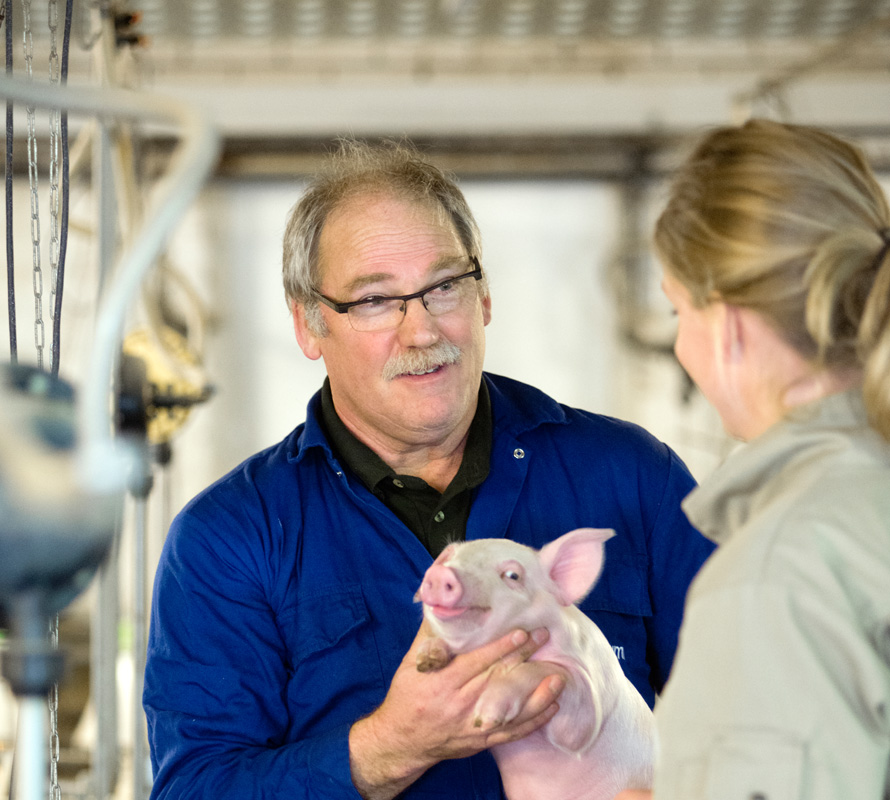 Information on ingredient availability, diet content and cost – as well as specific customer data – are all modelled with the help of our skilled nutritionists into multiple feeding scenarios with a 'what if' feature to help us guide you towards the best plan. We use best-in-class modeling and business scenario planning tools such as MAX®. and in-depth ingredient analysis tools such as REVEAL® The result is more precise, nutrient–driven feed formulations which, in turn, improve predictability of performance and deliver more consistent economic returns.
Another of our innovative nutrient developments is Pig Net Energy a proven Net Energy (NE) analysis system that has been finessed over many years. It drives diet formulations to help improve gain, consistent nutrient intake and cost-of-goods savings. We utilize specific NE systems for sow, young pig, and finishing solutions, as animals metabolize differently during each phase.
We also offer unique solutions that can improve your bottom line by tackling areas such as dynamic digestibility of amino acids, management of carbohydrates by individual fraction to support gut health, and measurement of swine digestible phosphorus.
Best-in-class feed additives
To further enhance animal feed performance and your profitability, we offer the following best-in-class feed additives:
Cinergy™, our range of tailor-made solutions for swine, including Cinergy™ FIT, a unique blend of stabilized essential oils compounds specifically selected for their beneficial effect in swine diets.
Prohacid™, a range of carefully selected organic acid blends chosen for their complementary effects on pH reduction and animal performance
Proviox™, a specific blend of nutritional antioxidants which reinforces the nutritional anti-oxidant status of the animal
Enzae™, enzymes that improve the nutritional values of ingredients and feed
Nectarom™, a range of flavourings which encourage increased feed intake
We also offer Notox™, a range of solutions (both feeding programmes and a unique online risk management tool, Notox™ Online that uses data from the world's largest pattern database to support animal performance under mycotoxin challenge conditions.
Beyond nutrition
Our pork experts are not only proficient in nutrition; they can help you increase productivity in your operations. For example, LEVER™ is a diagnostic tool to help you evaluate your business. It can improve profitability and the long-term viability of your business by assessing relative strengths and weaknesses versus competitors, while also looking at possible focus areas (high impact and high value) and progress against goals. Enteligen™, a mobile app paired with expert on-farm consultation, is aimed at improving overall animal performance and fertility. Enteligen™ measures factors such as temperature, air quality, ventilation and stocking density against recommended norms to help you understand the value of your management changes.