Village communities around Cargill's oil palm plantations in Indonesia strive for a sustainable, fire-free country
Cargill assists local communities to take ownership and responsibility for their environment and personal livelihoods
Program supports Indonesia's Ministry of Forestry and Environment efforts to end the country's haze and fire crisis which affected millions of lives and cost an estimated Rp 221 trillion in losses
JAKARTA, Indonesia, September 21, 2016 — Cargill's oil palm plantation business, Cargill Tropical Palm (CTP), together with the Ministry of Forestry and Environment of Indonesia, have launched the Cargill Fire Free Village Program aimed at empowering local communities in fire prevention and control.
The program comes at a critical juncture for Indonesia which suffered its worst haze crisis in more than a decade in 2015. The country incurred losses of approximately Rp 221 trillion (close to $17 billion), over 3.5 times that of its last haze crisis in 1997. In Sumatra and Kalimantan, an estimated half a million people sought medical care for respiratory illnesses.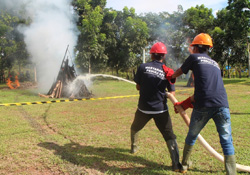 Members of Panca Tunggal village in Musi Banyuasin Regency, South Sumatra, learning how to put out a fire during a fire management workshop conducted by Cargill and Manggala AgniThe program will be first implemented at seven fire-prone villages in South Sumatra and 19 in West Kalimantan with the Masyarakat Peduli Api (fire-free village task force), local government, police and the Provincial Disaster Mitigation Agency. The villages are located around Cargill's plantations in the regencies of Musi Banyuasin and Banyuasin (South Sumatra) and Ketapang (West Kalimantan). Each village is led by a team of 15 community members who will serve as fire prevention and management champions for their respective communities.
The Cargill Fire Free Village Program comprises two core elements: Fire Prevention; and Fire Detection, Monitoring and Suppression. Village communities are first taken through a series of educational workshops on the environmental, economic and health impacts of the use of fire in land clearing. The workshops are designed and led by a team of forest and land fire management experts (Manggala Agni) from the Ministry of Forestry and Environment.
The second component of the program teaches good fire management methods such as ensuring ongoing availability of aerial, land and water resources. This includes access to unmanned aerial vehicles such as drones for monitoring of fires and land burning activities, fire-fighting equipment and personnel, and water bodies in the form of canals and dams.
John Hartmann, chief executive officer of Cargill Tropical Palm Holdings Pte Ltd, said, "The Cargill Fire Free Village Program empowers local village communities around our plantations with the skills and confidence to take on a nation-wide haze crisis which has affected them, their children and their families. We must help them recognize that they too have a pivotal role to play to help ease and eventually end this crisis."
Cargill has enforced a strict no-burning policy since 2005 and more recently through its sustainable palm oil policy. In 2014, Cargill signed a no-burning pledge to prevent land and plantation fires in South Sumatra and West Kalimantan. An estimated IDR 13 billion (approximately $1 million) is spent annually on investments in new fire-fighting equipment, maintenance of existing fire fighting assets and personnel and construction of water canals as part of the company's fire suppression efforts.
At a provincial level, the Fire Free Village Program in South Sumatra will target 112 fire-prone villages in four districts: Ogan Komering Ilir Regency (55 villages), Musi Banyuasin Regency (22 villages), Ogan Ilir Regency (14 villages), and Banyuasin Regency (21 villages).
A Nasir, head of protection, plantation department, Musi Banyuasin Regency, South Sumatra, said, "We are grateful for Cargill's support in establishing a long-term, sustainable solution to our haze crisis. We must continue to work together with local communities, governments, NGOs and the private sector to achieve our goal of a 'Green South Sumatra' by 2016."
Rasyid, a community member from Penuguan village in Mukut, Banyuasin Regency, is confident that the Fire Free Village Program will succeed. "Many of us are aware of the environmental damage caused by clearing land with fire. More importantly, we are determined to learn how to clear our land sustainably and extinguish fires effectively."
In the West Kalimantan region, Cargill's Fire Free Village Program was launched at its Poliplant Group plantation in July with the Ministry of Agriculture for Ketapang Regency. Community awareness workshops have been organized for over 100 residents from 19 village communities in the sub-districts of Air Upas, Marau and Jelai Hulu and Kendawangan.
Santoto, a smallholder farmer who attended the workshop, shared his experience. "The knowledge and practical skills gained from this workshop are invaluable to me and the farmers in my cooperative. We need to stop burning our land for the sake of our children and our future."
Indonesia:
Didin Nasirudin, +62 81932681999, [email protected]
Singapore:
Colin Lee, +65 6393 8193, [email protected]
Keshia de Vries, +65 6393 8378, [email protected]
---
About Cargill
Cargill's 155,000 employees across 70 countries work relentlessly to achieve our purpose of nourishing the world in a safe, responsible and sustainable way. Every day, we connect farmers with markets, customers with ingredients, and people and animals with the food they need to thrive. We combine 155 years of experience with new technologies and insights to serve as a trusted partner for food, agriculture, financial and industrial customers in more than 125 countries. Side-by-side, we are building a stronger, sustainable future for agriculture. For more information, visit Cargill.com and our News Center.
About Cargill in Indonesia
Cargill began doing business in Indonesia in 1974 by establishing a feed mill in Bogor, West Java. Today, Cargill is headquartered in Jakarta and has more than 19,000 employees. We have 59 locations with offices, manufacturing plants and facilities throughout the country and business activities comprise animal nutrition, cocoa, copra, seaweed, processed food exporting, grain and oilseeds, palm oil, as well as starches and sweeteners. For further information, please visit http://www.cargill.co.id.