Cargill, in close collaboration with its partners, drives sector transformation in Ghana
1. Cargill inaugurates licensed buying company in Ghana
2. Cargill's new cocoa purchasing model introduces first-of-its-kind innovative digital payment system for farmers
3. Cargill reaffirms long-term commitment to Ghana by partnering with COCOBOD to boost sustainability activities and supply chain traceability
(Ghana) April. 11, 2017 – Today, Cargill celebrated the establishment of its own licensed buying company (LBC) – Cargill Kokoo Sourcing Ltd – in Ghana, in the presence of Deputy Minister for Trade and Industry, Hon. Carlos Kingsley Ahenkorah; Deputy Minister designate for Food and Agriculture, Hon William Quaitoo; the Ambassador of the United States to Ghana, H.E Robert P. Jackson; the Ambassador of the Netherlands to Ghana, H.E Ron Strikker; representative of the Chief Executive Officer, COCOBOD; and representatives from Cargill.
This new LBC has been fully operational since November 2016, and allows Cargill to directly source cocoa from certified farmers in Ghana for the first time – putting the farmer at the heart of our business. So far over 25,000 farmers are registered, of which 9,000 are actively pursuing selling beans through Cargill's LBC network. Cargill already sources directly from farmers and farmer organizations in other origin countries. Moving to this model in Ghana means that the company will be better positioned to efficiently implement the Cargill Cocoa Promise, Cargill's commitment to improving the lives of cocoa farmers and their communities, at scale and better serve its customers.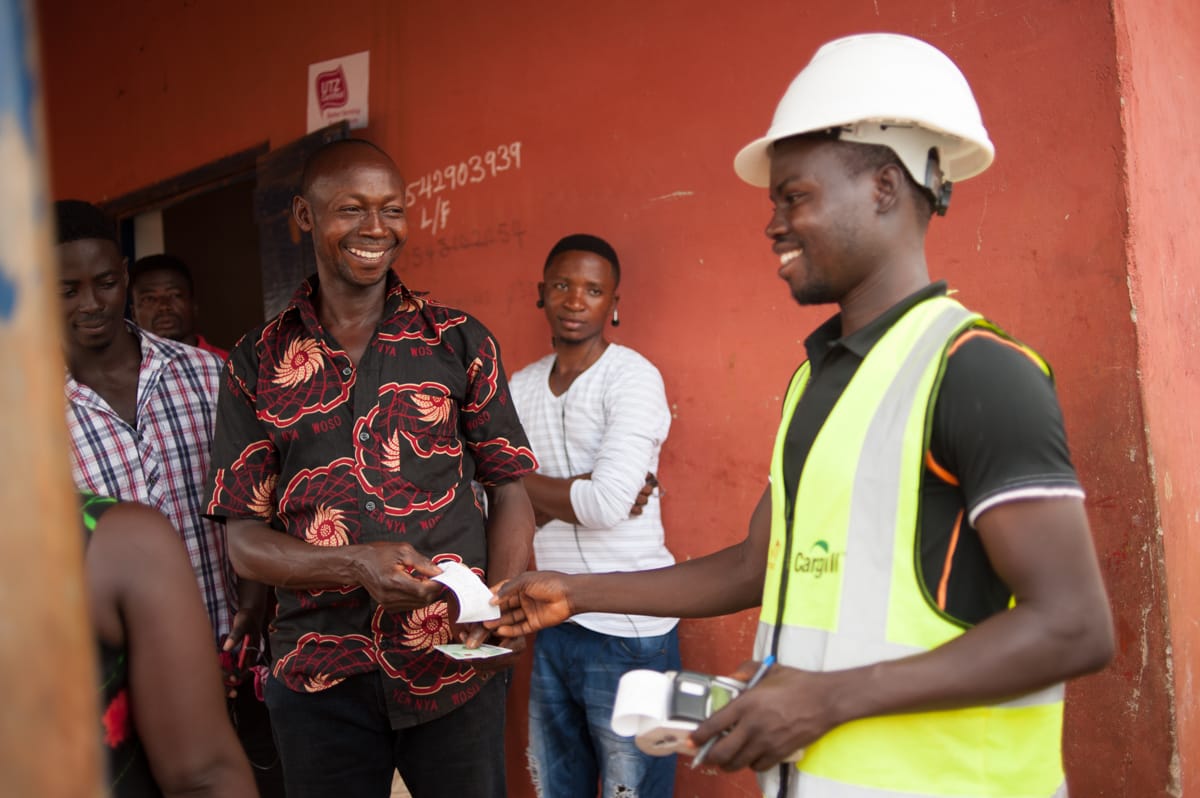 This new LBC allows Cargill to directly source cocoa from certified farmers in Ghana for the first time – putting the farmer at the heart of our business. So far over 25,000 farmers are registered, of which 9,000 are actively pursuing selling beans through Cargill's LBC network.
Cargill's innovative high–tech purchasing model is built on the principles of sustainability and full traceability in Ghana. Farmers deliver their cocoa to community warehouses where their beans are digitally weighed in front of them, assigned a fully traceable bar code and funds are then transferred straight to the farmer's phone or e-wallet using E-money through partnerships with E-Zwich, MTM mobile Money and Tigo Mobil Money. The revolutionary move to mobile money in Ghana adds assurance for the farmer, improves their ability to trade more effectively and eradicates all risks associated with cash payments.
Details of the beans are then recorded in a standardized management system before the beans are collected by larger trucks, which transfer them to central warehouses. Through Cargill's new bar code system, the company can now trace each individual bag of Ghanaian cocoa beans, sourced through the Cargill LBC, to the individual farm, creating a fully traceable supply chain down to farmer level for the first time in Ghana.
Speaking about the importance of working with our partners to introduce this new payment system into rural areas in Ghana, Lionel Soulard, Managing Director West-Africa Cargill Cocoa & Chocolate said, "Never before has it been more critical for cocoa farmers in Ghana to be the master of their own destiny and improve their own livelihoods. With the introduction of an innovative digital payment system, or mobile money for short, this first-of-its kind initiative at scale in Ghana is creating a great opportunity for smallholder finance at the farm level.
"We strongly believe that this way of doing business is the future for cocoa farmers in Ghana. Mobile money is the first step towards improving incomes for farmers, as we build the infrastructure and capabilities for a more efficient and effective supply chain. Our aim is to create an enabling environment for smallholder finance for the future, resulting in better entrepreneurial spirit already noticeable at the farmer level" said Soulard.
Mr. Joseph Boahen Aidoo, CEO from COCOBOD said, "We are pleased to have worked with Cargill on such an innovative project, and this shows our continued partnership with Cargill goes from strength to strength. We see this model as the future of cocoa sourcing in our country. COCOBOD will continue to work with all stakeholders in the sector to support the livelihoods of the farmers to bring about efficiency in production and at the same time environmental sustainability and transparency in the sector."
The introduction of this model reflects Cargill's commitment to transform the Ghanaian cocoa sector for the benefit of all stakeholders, reaffirms Cargill's commitment to the Cocoa Promise, and, in doing so, securing a long-term supply of cocoa.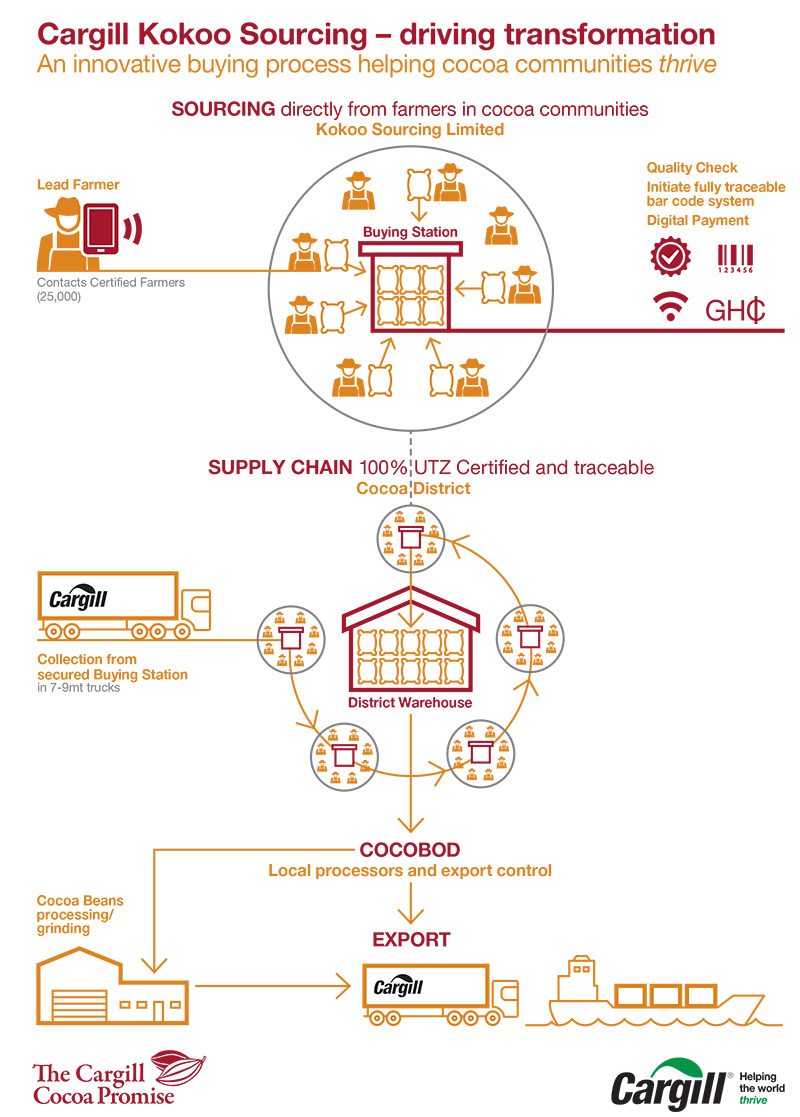 Soulard said, "Having long standing relations with cocoa farmers and their communities is critical for the full implementation of our sustainability approach and we now intend to expand our existing sustainability activities to enable farming communities to benefit from training, community and farm development support. We intend to scale up existing activities to enable the current 9,000 farmers dealing with the LBC to benefit from good agricultural practice training, community development, farm development and support in line with the COCOBOD strategy. Developing our sourcing capabilities in the world's second largest cocoa producing country is an essential step to meet growing customer demand for sustainable, certified cocoa."
"We are excited to continue this sustainability journey in Ghana, in partnership with COCOBOD, to address key challenges for our industry such as deforestation. Together, we are investing in the next generation of cocoa farmers and supporting the development of farmer aggregates," said Soulard. "We look forward to building on our long history in the country and to embracing innovative sustainability practices and the latest technologies along the way. Above all else, we are committed to improving the livelihoods of Ghanaian cocoa farmers and their communities for generations to come."
Wendy Garbutt, +44 7748 933576, [email protected]
---
About Cargill
Cargill's 155,000 employees across 70 countries work relentlessly to achieve our purpose of nourishing the world in a safe, responsible and sustainable way. Every day, we connect farmers with markets, customers with ingredients, and people and animals with the food they need to thrive.
We combine 153 years of experience with new technologies and insights to serve as a trusted partner for food, agriculture, financial and industrial customers in more than 125 countries. Side-by-side, we are building a stronger, sustainable future for agriculture.
About Cargill in Ghana
Cargill has been buying cocoa from Ghana for over 40 years and in 2008 opened its state-of-the-art cocoa processing facility in Tema. Today the company has over 400 permanent and contracted employees processing cocoa products to service food and confectionary customers locally and around the world. Additionally, our animal nutrition business provides aqua feed which is supporting Ghana's tilapia fish industry. In 2016 we added a licensed buying company (LBC). Our LBC operations bring innovative ways to trade with our farmers placing emphasis on our sustainability and traceability efforts and build on our long-term commitment to the country and our relationship with the government.
About Cargill Cocoa Promise
We launched the Cargill Cocoa Promise in 2012 to align our efforts in origin countries. It is our commitment to improving the livelihoods of farmers and communities in a holistic way that will secure a thriving sector for generations to come. The origin countries include Brazil, Cameroon, Côte d'Ivoire, Ghana and Indonesia.