Cargill and AKV Langholt AmbA invest $22.5 million USD in Denmark potato starch production facility
(MINNEAPOLIS) January 29, 2018 – Cargill and its Danish potato starch partner, AKV Langholt AmbA, are investing $22.5 million USD (EUR 19 million) in a new potato starch production unit at their Langholt facility in Denmark. Potato starches produced at the new facility expand Cargill's SimPure™ portfolio of functional native starches. SimPure starches feature ingredients from a variety of botanical sources, providing food and beverage manufacturers access to the recognizable, simple ingredients consumers demand, while achieving necessary process tolerance, retail shelf life and storage ability.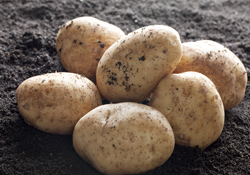 Cargill and its Danish potato starch partner, AKV Langholt AmbA, are investing $22.5 million USD in a new potato starch production unit at their Langholt facility in Denmark. The plant expects to start operations in mid-2018.
"This investment demonstrates Cargill's commitment to providing our food manufacturing customers the functional native starches they need to meet the demand of today's label-conscious consumers," said Simon Waters, global food starch leader, Cargill.
"Consumer demand for products made with familiar, trusted ingredients is increasing rapidly," said Waters. "However, these ingredients must also stand up to the diverse processing conditions of modern processing. We understand these competing needs and are using state-of-the-art processing techniques make label-friendly starch solutions a reality."
This latest investment broadens Cargill's starch portfolio, which includes native, functional native and modified starches. Each starch line is designed to enhance the texture and stability of everyday foods including batters and coatings, pudding powders, dry mix soups and sauces, processed meat, bakery mixes, ready meals, creamy spreads and fillings, salad dressings and pet foods.
North America: Pam Stauffer, 952-742-6080, [email protected]
EMEA: Christine Nicolay, 32-15-400-493, [email protected]

---
About Cargill
Cargill's 155,000 employees across 70 countries work relentlessly to achieve our purpose of nourishing the world in a safe, responsible and sustainable way. Every day, we connect farmers with markets, customers with ingredients, and people and animals with the food they need to thrive. We combine 155 years of experience with new technologies and insights to serve as a trusted partner for food, agriculture, financial and industrial customers in more than 125 countries. Side-by-side, we are building a stronger, sustainable future for agriculture. For more information, visit Cargill.com and our News Center.
Cargill texturizers
Cargill's texturizers business specializes in the production of texturizing ingredients that link the core food-building blocks (proteins, lipids, carbohydrates and water) into finished foods and beverages. Our ingredients portfolio, derived from plant sources, is comprised of extracts from major crops (starches, soy proteins and lecithins), seaweeds (carrageenans), fruits (pectins) and sugar fermentation (xanthan gum). These specialized ingredients are also applied to offerings in the personal care, pharmaceutical and industrial categories.
Coupled with global technical and research and development skills, Cargill helps customers design nutritious, convenient and tasty foods to satisfy consumers.
Our texturizing business is operational in all continents with 31 sales offices and 20 manufacturing plants.

About AKV Langholt
AKV Langholt AmbA is a cooperative owned by 160 North Jutland potato growers. Founded in 1933, today the company has its production facilities in Langholt, North Jutland in Denmark and employs approximately 55 personnel. Based on an annual potato delivery rate of 2.1 million hectokilos, it produces potato starch and potato protein, as well as the by-products; potato pulp and evaporated potato juice.