Cargill launches the Waxy Corn Promise™, a farm-based program raising food starch sustainability across Europe
The Waxy Corn Promise supports farmers to continuously improve their practices and reduce their impact on the environment in corn growing areas
(MECHELEN, Belgium) October 24, 2018 – To ensure a long-term sustainable crop supply for food starch, Cargill has committed to source waxy corn 100 percent sustainably from European farmers. In support of this initiative Cargill has developed the Waxy Corn Promise program, leveraging the strong partnerships between Cargill, farmers and co-op suppliers to address key sustainability challenges in the waxy corn growing regions. Benchmarked at Silver level by the Sustainable Agriculture Initiative Platform (SAI Platform), the Waxy Corn Promise delivers on consumers' expectations for more sustainable food ingredients.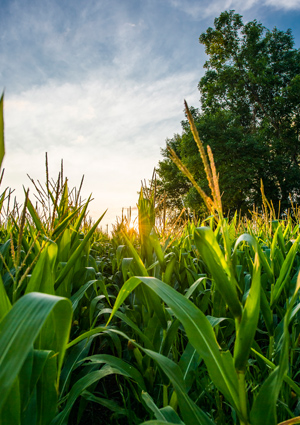 "The Waxy Corn Promise was developed with the support of our agricultural crop suppliers and an agronomy consultancy, to ensure that we make real sustainability impact" explains Dawn Emerson, Cargill sustainability manager. "It is tailored specifically to the waxy corn crop and the growing regions, recognizing the good work that farmers do already and providing improvement actions to help them become more sustainable year-on-year".
Continuous improvement is a key component of the program. Action plans are implemented and reviewed each year, at each farm, in close collaboration with Cargill's supplier partners. The sustainability actions are deliberately targeted at the most relevant topics for waxy corn and the growing areas: protection of biodiversity, soil and water quality preservation and water use optimization.
"We are committed to making an impact and raising sustainability standards across our supply chains," said Judd Hoffman, director texturizers & specialties, Cargill Europe. "Waxy corn is a specific type of corn used to produce starches serving as ingredients in many food products and the Waxy Corn Promise provides credible claims, helping our customers achieve their sustainability targets. It also provides assurance and certainty to consumers who are increasingly seeking products containing sustainably sourced ingredients."
While helping farmers protect and efficiently use their valuable natural resources, the Waxy Corn Promise also drives positive change throughout the European starch supply chain, in line with Cargill's commitment to nourishing the world, protecting the planet and enriching our communities.

Ilinca Munteanu, [email protected]
---
About Cargill
Cargill's 155,000 employees across 70 countries work relentlessly to achieve our purpose of nourishing the world in a safe, responsible and sustainable way. Every day, we connect farmers with markets, customers with ingredients, and people and animals with the food they need to thrive. We combine 155 years of experience with new technologies and insights to serve as a trusted partner for food, agriculture, financial and industrial customers in more than 125 countries. Side-by-side, we are building a stronger, sustainable future for agriculture.
About Cargill Starches, Sweeteners & Texturizers
Cargill Starches, Sweeteners & Texturizers business develops and commercializes sustainable ingredients made from renewable and nature-derived sources. We employ about 10.000 employees in 40 countries who are committed to deliver our food, feed and industrial customers with high-quality products. We process corn, wheat, potato, peas, seaweeds, fruit-peels, sunflowers, rapeseed and soy to manufacture a comprehensive collection of value-added ingredients dedicated to the food & beverage, papermaking & corrugating, pharmaceutical, and animal nutrition industries. We take a unique approach to each of these categories to help our customers thrive and deliver them valuable products and services. In the food space, we focus on sweetness, texture and protein & specialties innovations, while our industrial offer is designed to supply renewable solutions. Our portfolio includes sweeteners, starches, ethanol, acidulants, proteins, texturizers, corn oil, dry corn ingredients, specialties and animal feed ingredients.
About SAI Platform
Founded in 2002, the Sustainable Agriculture Initiative Platform (SAI Platform) brings together over 100 member and partner farms, companies and organisations leading the way in pioneering sustainable agriculture world-wide. We enable our members to share knowledge, create solutions to common challenges and promote sustainable agriculture globally in a pre-competitive environment. By developing the practice of sustainable agricultural tools and principles we are creating secure and strong agricultural supply chains, to protect the earth's resources. Our current focus is on beef, dairy and crops. Our innovative Farm Sustainability Assessment (FSA) tool and collaboration tool Spotlight, lead the field to effective sustainable practices while delivering value to our members, farmers, their communities and consumers. To find out more about SAI Platform and FSA, visit our website: www.saiplatform.org