Cargill recognized as 'Ship Operator and Charterer of the Year' for South Asia, Middle East and Africa by Lloyd's List
(Dubai, United Arab Emirates) November 27, 2018 – Cargill was named Ship Operator and Charterer of the Year by Lloyd's List, a leading maritime news publisher since 1734, at its annual South Asia, Middle East and Africa awards ceremony in Dubai. Cargill's ocean transportation business was recognized for reducing CO2 emissions by 5.7 percent, modernizing its fleet and achieving significant topline revenue growth. Cargill also successfully expanded its maritime business operations by concluding two landmark deals in the region this year.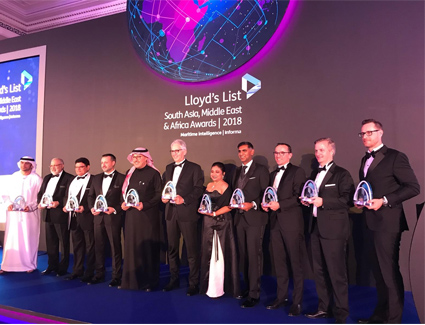 "We are honored to be named Charterer and Ship Operator of the Year. Lloyd's List recognized our efforts to achieve more safe, responsible and sustainable shipping for our customers and the maritime industry in this region," said Jan Dieleman, president of Cargill's ocean transportation business. "Given the significant changes in the global shipping industry, it is essential that ship charterers, owners and operators, along with our NGO and industry partners, come together to find workable and long-lasting solutions. We are proud to be recognized for our contributions toward a more modern, green and profitable sector."
The Lloyd's List Awards series recognizes the industry's successes, setting a benchmark for excellence while rewarding innovative ideas and concepts that have pushed the boundaries of what is possible.
In his opening speech, Richard Clayton, chief correspondent at Lloyd's List, said "Global issues don't always translate into regional concerns. This region has challenges of its own, and this evening's awards target companies and individuals who have spent the past year tackling environmental, logistics, innovation, infrastructure, and other challenges. There are some inspirational winners in the South Asia, Middle East and Africa region; this is your opportunity to meet them, share experiences, and hear about successes."
The judges said 'Cargill maintains a local presence as part of its global influence. The company's ground-breaking Corporate Social Responsibility report has set the bar very high indeed.'

Joe Cook, [email protected]
---
About Cargill
Cargill's 155,000 employees across 70 countries work relentlessly to achieve our purpose of nourishing the world in a safe, responsible and sustainable way. Every day, we connect farmers with markets, customers with ingredients, and people and animals with the food they need to thrive. We combine 155 years of experience with new technologies and insights to serve as a trusted partner for food, agriculture, financial and industrial customers in more than 125 countries. Side-by-side, we are building a stronger, sustainable future for agriculture.
About Cargill Ocean Transportation
Cargill Ocean Transportation is a leading freight-trading business that provides bulk shipping services to customers across the globe. Founded in 1956, Cargill commands the highest level of operational expertise which ensures the sustainable and efficient management of its 650-strong fleet. Cargill has a unique market perspective and combines first-class operations with expert trading in both physical and financial freight markets.