Cargill's iQShrimp helps farmers manage risk, make better decisions
Digital software provides shrimp producers with data clarity and predictive insights
MINNEAPOLIS – March 5, 2018 – Shrimp farmers can tap into the first cloud-based solution in the aquaculture industry thanks to Cargill's iQShrimp. The predictive software uses machine learning and sensors to give them real-time visibility into their farm operations. iQShrimp is a first-generation offering driven by iQuatic™, Cargill's digital platform for aquaculture.
"Shrimp farming has inherent weather and disease risks," said Neil Wendover, Cargill's digital insights product line director for aquaculture. "By working directly with shrimp farmers, our data scientists can use machine learning to deliver insights to inform decisions that directly impact the growth and economics of their operations."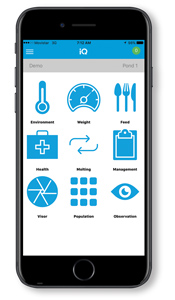 The iQShrimp software captures data from shrimp ponds through mobile devices, sensors and automated feeders to record data about shrimp size, water quality, feeding patterns, and health and weather conditions. The system then combines production and environmental information into a "live operations dashboard" to provide insights and recommendations, such as feeding management strategies and optimal harvest dates.
"Producers get a world-class software solution that is ready to connect to any device and provides the foundation for leveraging data as a competitive advantage without having to make a large technology investment," Wendover said.
The technology will be available to customers globally, and is tailored to meet the needs of local producers. Today, iQShrimp is available for producers in Mexico, Central America, Ecuador, New Caledonia, Southeast Asia and India, and will expand to other geographies in the coming months.
As part of its commitment to digitalization and analytics, Cargill collaborates with IoT partners and other industry disruptors to bring technology innovations to customers across species. Over the next several months, Cargill will expand iQuatic offerings to other species, including tilapia and salmon. The iQShrimp launch comes on the heels of the company's introduction of Dairy Enteligen™ and its recent equity investment in Cainthus, a machine-learning vision company.

"Cargill will continue to aggressively grow its capability in the technology, digital and analytics space to help farmers make quicker, faster decisions that directly impact their productivity and profitability," said SriRaj Kantamneni, managing director for Cargill's digital insights business.
"We are changing the industry by using machine learning, algorithms and data science to deliver more accurate and precise information for our customers."
Media Contact: [email protected]
---
About Cargill
Cargill helps the world's food system work for you. We connect farmers with markets, customers with ingredients and families with daily essentials—from the foods they eat to the floors they walk on. Our 160,000 team members around the world innovate with purpose, empowering our partners and communities as we work to nourish the world in a safe, responsible, sustainable way.
From feed that reduces methane emissions to waste-based renewable fuels, the possibilities are boundless. But our values remain the same. We put people first. We reach higher. We do the right thing. It's how we've met the needs of the people we call neighbors and the planet we call home for 157 years—and how we'll do so for generations to come. For more information, visit Cargill.com and our News Center.
About Cargill Animal Nutrition
Cargill's animal nutrition business has more than 20,000 employees at more than 275 facilities in 40 countries. Fueled by our innovation and research, we offer a range of products and services to feed manufacturers, animal producers, and feed retailers around the world, helping put food on the plates of nearly one billion people around the world every day. Cargill's animal nutrition business offers a range of compound feed, premixes, feed additives, supply chain and risk management solutions, software tools and animal nutrition expertise that is unmatched in the industry. For more information about Cargill Animal Nutrition, visit: http://www.cargill.com/feed.