U.S. consumers confident their food is safe as grilling season kicks off
Cargill survey indicates majority of consumers believe their protein is
raised and handled with proper food safety measures
(MINNEAPOLIS) May 16, 2018 – About three-quarters of Americans plan to don an apron and grab a spatula to grill their favorite steaks, burgers or chicken this year. But can consumers trust their food is safe as grilling season kicks into high gear? Ninety-four percent of American say yes, and that's good news as Americans enter the heavy summer grilling months.
Cargill's latest Feed4Thought survey, which polled more than 1,000 people in the U.S. in April 2018, found that 94 percent say they trust that the meat they buy for grilling is safe to eat. The survey also found that nearly 80 percent believed food producers are taking the necessary steps to ensure their meat is safe for grilling. Additionally, 87 percent believed an animal's diet can have an impact on food safety.
"We're entering the season where Americans turn to the grill to prepare their meals, and food safety is top-of-mind," said Chuck Warta, president, Cargill Premix and Nutrition. "It's clear that consumers continue to care very deeply about where their food comes from and how it is raised, and they are increasingly aware that safety actually begins on the farm with what is in an animal's diet."
That's why Cargill continues to invest in research, learning how the health and wellbeing of animals can positively impact food safety. Feed additives like prebiotics, probiotics, plant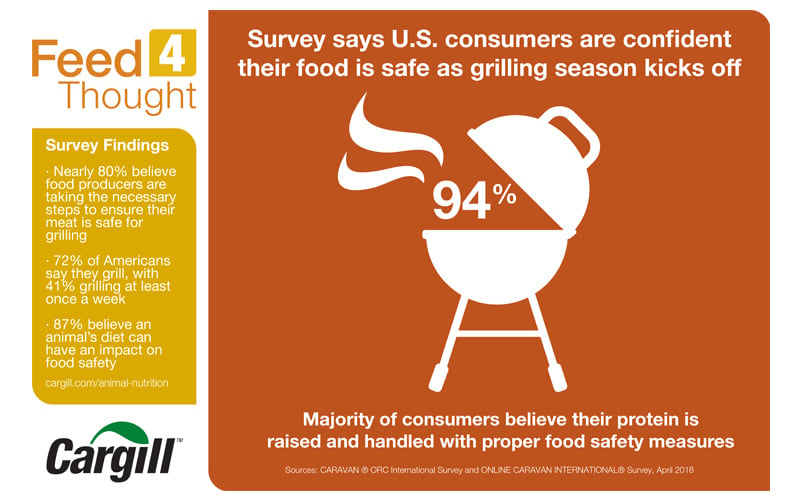 extracts and fermentation ingredients work with the natural biology of the animal to support immune strength and gastro-intestinal health in poultry, pigs and cattle.
Additional results from the Feed4Thought survey include:
72 percent of Americans say they grill, with 41 percent grilling at least once a week.
Favorite grilling options:

42 percent steak
25 percent hamburgers
18 percent chicken
12 percent pork chops/ribs

79 percent indicated they grill their meat to proper temperatures.
38 percent read packaging labels for inspection and certification information.
You can find a full summary of findings here.
"Food is very personal, so it's important that we continue to build trust with consumers regarding the health, safety, and sustainability of the meat they eat," said Brian Sikes, president, Cargill Protein. "At Cargill, we have hundreds of food safety professionals across our North America protein business working hard every day to implement food safety measures. We also encourage consumers to promote food safety by following safe handling and cooking practices as they fire up for grilling season."
Media Contact: [email protected]
---
About Cargill
Cargill helps the world's food system work for you. We connect farmers with markets, customers with ingredients and families with daily essentials—from the foods they eat to the floors they walk on. Our 160,000-plus team members around the world innovate with purpose, empowering our partners and communities as we work to nourish the world in a safe, responsible, sustainable way.
From feed that reduces methane emissions to waste-based renewable fuels, the possibilities are boundless. But our values remain the same. We put people first. We reach higher. We do the right thing. It's how we've met the needs of the people we call neighbors and the planet we call home for 158 years—and how we'll do so for generations to come. For more information, visit Cargill.com and our News Center.
About Cargill Animal Nutrition's Feed4Thought Survey

Feed4Thought is a regular consumer survey effort from Cargill Animal Nutrition that explores key perceptions and opinions about important topics in the animal protein supply chain. The online survey for Cargill Animal Nutrition was conducted by ORC International. The U.S. survey was conducted in December 2016, and polled a demographically representative sample of 1,055 U.S. adults. The Spanish survey also was conducted in December 2016, and polled a demographically representative sample of 1,000 Spanish adults.