U.S. consumers want protein raised with the same natural health supplements humans use
Cargill survey indicates popularity of natural supplements to aid digestive health, animal wellbeing
(MINNEAPOLIS) February 13, 2018 – Millennials, ever interested in where and how their food is produced, want their protein to be raised with the same natural health supplements they would use themselves—and they are driving this trend among the general U.S. consumer base.
Cargill's latest Feed4Thought survey, which polled more than 1,000 people in the U.S. in Dec. 2017, found 62 percent of millennials want the protein they eat to be raised with the same health supplements used in humans, such as probiotics, plant extracts and essential oils. Consumers in general report they are three times more likely to prefer protein that were fed those natural feed additives to improve the animal's digestive health and overall well-being.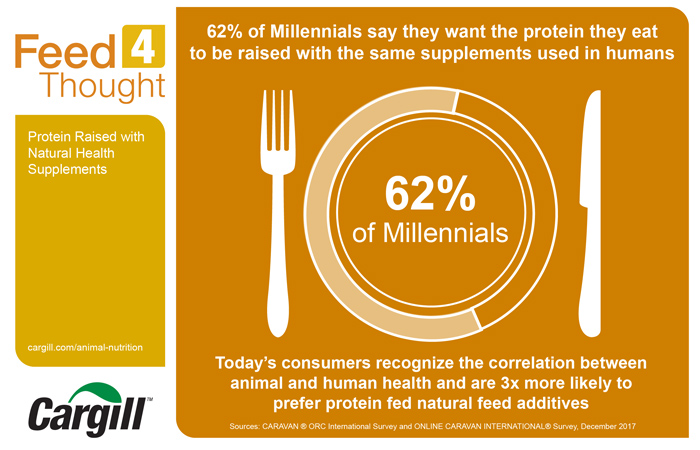 "We've seen a rise in the popularity of digestive health supplements for humans, which is echoed in the demand for protein raised with natural supplements," said Chuck Warta, president of Cargill Premix and Nutrition. "People want natural, wholesome and sustainable ingredients. In turn, they are increasingly seeking out protein options in line with their values and personal natural health routines."
Additional results from the Feed4Thought survey include:
Probiotics were the most well-recognized natural supplement for animals (43 percent).
Almost three-quarters (72 percent) of respondents were aware of the availability of natural health products to feed animals.
More than 80 percent of respondents reported adjusting or supplementing their diet to achieve better gut health.
Investing in Natural Feed Additives
Other consumer research confirms this trend, which is driven by rapidly increasing demand for quality animal products. A recent MarketsandMarket™ study projects the total probiotics animal feed market will reach about $5.07 billion by 2022, growing at a rate of nearly 8 percent per year. Meanwhile, a senior industry analyst from Nutrition Business Journal, said global supplement sales for humans will also grow steadily through 2020.
"It's important for the animal agriculture community to remain in touch with food trends so that we can continue to provide the choices consumers demand," said Hannah Thompson-Weeman, vice president of communications at the Animal Agriculture Alliance. "Just as human health supplement offerings expand and improve, so do the options to raise animals with natural supplements. Consumers can now find the meat, milk and eggs raised with the same natural health supplements they personally use."
"Cargill is expanding its efforts in healthy, naturally supplemented protein," Warta said. "We are doing that through our acquisition of Diamond V and equity investment in Delacon. These two global businesses are leading the way in the production of sustainable and wholesome food that consumers want."
Iowa-based Diamond V produces natural immune support products for animal feed, contributing to an overall safer and more sustainable food supply. Austria-based Delacon makes phytogenic feed additives, which use ingredients like herbs, spices, and other plants to improve animal performance.
"Our mission is to develop products that are natural, research-proven solutions that help optimize animal health and productivity," said Diamond V's president, Jeff Cannon. "Our technology works naturally with the biology of the animal to strengthen the immune system, which supports benefits beyond health and performance."
Media Contact: [email protected]
---
About Cargill
Cargill helps the world's food system work for you. We connect farmers with markets, customers with ingredients and families with daily essentials—from the foods they eat to the floors they walk on. Our 160,000 team members around the world innovate with purpose, empowering our partners and communities as we work to nourish the world in a safe, responsible, sustainable way.
From feed that reduces methane emissions to waste-based renewable fuels, the possibilities are boundless. But our values remain the same. We put people first. We reach higher. We do the right thing. It's how we've met the needs of the people we call neighbors and the planet we call home for 157 years—and how we'll do so for generations to come. For more information, visit Cargill.com and our News Center.
About Cargill Animal Nutrition
Cargill's animal nutrition business has more than 20,000 employees at more than 275 facilities in 40 countries. Fueled by our innovation and research, we offer a range of products and services to feed manufacturers, animal producers, and feed retailers around the world, helping put food on the plates of nearly one billion people around the world every day. Cargill's animal nutrition business offers a range of compound feed, premixes, feed additives, supply chain and risk management solutions, software tools and animal nutrition expertise that is unmatched in the industry. For more information about Cargill Animal Nutrition, visit: http://www.cargill.com/feed.
About Cargill Animal Nutrition's Feed4Thought Survey

Feed4Thought is a regular consumer survey effort from Cargill Animal Nutrition that explores key perceptions and opinions about important topics in the animal protein supply chain. The online survey for Cargill Animal Nutrition was conducted by ORC International. The U.S. survey was conducted in December 2016, and polled a demographically representative sample of 1,055 U.S. adults. The Spanish survey also was conducted in December 2016, and polled a demographically representative sample of 1,000 Spanish adults.