Cargill launches Sun Valley® "Raised Without Antibiotics" chicken products in China
New blockchain technology advances supply chain transparency via the Trustworthy Food Tracing Platform
Shanghai (June 10, 2020) – Cargill is launching new Sun Valley® Raised Without Antibiotics (RWA) chicken products in a partnership with China Animal Health and Food Safety Alliance (CAFA) for consumers across China. Leveraging blockchain technology, the three new products focus on food safety and transparency across the entire farm-to-fork supply chain.
The three new Sun Valley® RWA product offerings include two raw, whole chicken products of different weights and one pack of raw cut chicken pieces. These products are now available on Sun Valley's flagship stores on Tmall and JD.COM, with other online and offline channels to follow.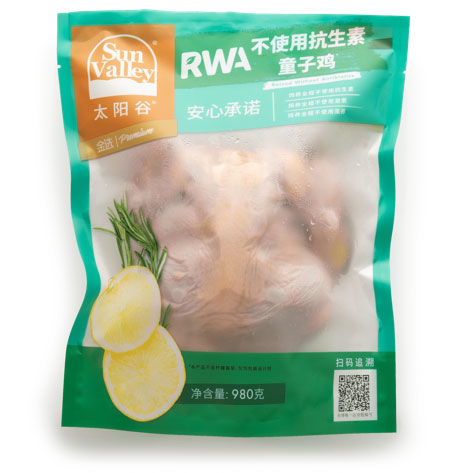 Sun Valley® Raised Without Antibiotics (RWA) chicken products from Cargill Cargill's new RWA chicken products can be tracked on CAFA's platform. After scanning a QR code on the package, consumers can find relevant information about the hatchery, farm, production and environment data, certifications and test reports as well as recommended recipes for products.
"This is chicken 2.0 in China. Our Sun Valley® RWA chicken products have passed more than 100 tests to ensure high food safety and quality. Through digital innovation, we are now offering traceable protein products for the Chinese market. This launch is an important step in bringing more protein options to consumers with better traceability and product quality for local consumers," said Jackson Chan, managing director of Cargill Protein China.
Cargill strictly follows international best practices and global standards to ensure food safety and quality of RWA chicken products. The newly launched Sun Valley® RWA chicken products are sourced from Cargill's fully-integrated supply chain in Chuzhou, China. Special requirements are in place for RWA chicken products, which are sourced exclusively from poultry not treated with antibiotics during their full life cycle.
In addition to officially launching the RWA chicken products, Cargill also held a panel today in partnership with CAFA to discuss the application of blockchain technology in food security and traceability across the poultry supply chain. The panel was attended by industry practitioners, experts, as well as customers who were present at the event.
Dr. Sun Zhongchao, executive deputy secretary-general of CAFA said, "CAFA and Cargill Protein China have been long-time partners in promoting food safety practices in China. Today we are happy to see that Cargill has set a great example with industry-leading standards. We look forward to working with them and the whole industry to improve food safety and traceability."

Media Contact: [email protected]
---
About Cargill
Cargill helps the world's food system work for you. We connect farmers with markets, customers with ingredients and families with daily essentials—from the foods they eat to the floors they walk on. Our 160,000-plus team members around the world innovate with purpose, empowering our partners and communities as we work to nourish the world in a safe, responsible, sustainable way.
From feed that reduces methane emissions to waste-based renewable fuels, the possibilities are boundless. But our values remain the same. We put people first. We reach higher. We do the right thing. It's how we've met the needs of the people we call neighbors and the planet we call home for 158 years—and how we'll do so for generations to come. For more information, visit Cargill.com and our News Center.
About China Animal Health and Food Safety Alliance (CAFA)
The China Animal Health and Food Safety Alliance is a professional, non-profit organization under the framework of the National Agricultural Science & Technology Innovation Alliance, which is established by the Ministry of Agriculture and Rural Affairs of China. It aims to provide consumers with safe, high-quality and healthy food.
The work of the alliance focuses on animal health, meat, egg, milk, aquatic product quality and safety and other major needs, as well as the improvement of scientific and technological innovation abilities and resource sharing of animal husbandry, veterinary medicine and food safety, to promote the healthy and orderly development of the whole industrial chain from breeding to dining table.
The members of the alliance are composed of breeding, slaughtering and deep processing enterprises, veterinary medicine, feed and equipment enterprises, supermarket, catering and e-commerce enterprises, testing, certification and consulting enterprises, scientific research units at the central and provincial and ministerial levels, totaling 133 units. For more information, please visit www.cafa.org.cn