Jamie Miller
Chief Financial Officer and Head of Corporate Strategy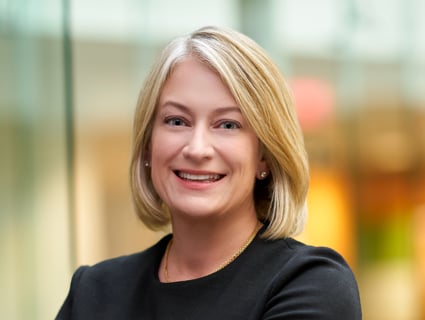 Jamie Miller joined Cargill in June 2021 as Corporate Senior Vice President and Chief Financial Officer. She was appointed Head of Corporate Strategy in April 2022. Jamie is a member of Cargill's Executive team and chairs Cargill's Financial Risk Committee.
As Chief Financial Officer, Jamie is responsible for enabling the Company's strategic growth, leading its global finance organization, and stewarding Cargill's financial resources. In addition, she oversees Accounting & Reporting, Corporate Audit, FP&A, Tax & Customs, Treasury, and Risk Management within the company.
Jamie brings deep financial management and global business experience to Cargill, having served in leadership positions with General Electric (GE), Anthem and PricewaterhouseCoopers. Throughout her career, she has led through challenge and transformation while focusing on people, innovation, simplification and accelerating performance and growth. Jamie has leveraged technology to increase competitiveness, and has extensive experience in effective, transparent communication with stakeholders and investors, and in managing complex M&A, audit and risk.
Before joining Cargill, Jamie served as Senior Vice President and Chief Financial Officer for GE. She began her tenure at GE in 2008 as Vice President, Controller and Chief Accounting Officer, and went on to become GE's Chief Information Officer where she led the company's global information technology strategy, services and operations. Jamie also served as President and CEO of GE Transportation, a global technology leader and supplier for the rail, mining, marine, stationary power and drilling industries.
Prior to joining GE, Jamie was Senior Vice President and Controller of WellPoint (now Anthem), managing investor relations, controllership, financial planning and analysis, tax and financial systems for the company. She was also a partner at PricewaterhouseCoopers.
Outside of Cargill, Jamie serves on the board of directors of Qualcomm, Inc., a global wireless technology company where she is a member of the Audit Committee. She previously served on the board of Girls Who Code, a nonprofit organization committed to closing the gender gap in technology.
Jamie earned her Bachelor of Science degree in accounting at Miami University.