Reveal®
Start improving your dry matter consistency today with Reveal® analysis.
Order now!
The power of the Cargill Forage Lab in your hand.

Reveal® is a new real-time forage analysis service from Cargill. It's the most cost-effective, convenient and accurate way to manage dry matter variation in forages. Reveal® analysis will revolutionize the way dairy operations manage dry matter variation, and help them deliver a more consistent diet to their animals.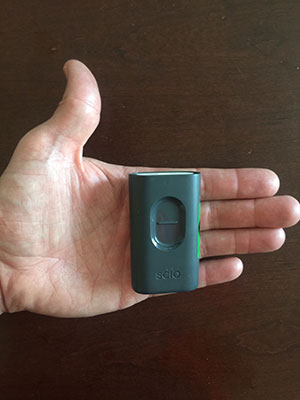 How does the Reveal® service work?
The Reveal®-real-time forage analysis service provides dry matter testing results instantly via a Reveal® app on your smart phone. The Reveal® real-time forage analysis works by utilizing SCiO, the world's first pocket-sized connected micro-spectrometer (NIR) device to scan samples and then compare them against the Cargill Elk River Forage Lab in the cloud to provide a precise dry matter measure. The Elk River Forage Lab is part of the global Cargill database of feed ingredients, the largest in the world, giving our proprietary calibrations a higher degree of precision.
Upon purchase, you will be shipped the device and instructions for downloading and installing the app. The Reveal® app is free to download, but requires an active subscription to login. The app can be downloaded onto any iOS® and Android™ smartphone device.
Learn more about Reveal® ​in an exclusive interview with Dairy Herd Management at this year's World Dairy Expo.
See how quick and easy it is to get an instant forage dry matter analysis with Reveal®!
Reveal in the News
New Technology Brings Confidence During Forage Harvest
Make Every Bite Count
New Handheld Device Quickly Checks Feed Moisture
Game Changing Technology: Advancements in the Digital Nutrition Space Provide an Edge for Progressive Dairy Farms

Scan. Reveal. Refine.
Once activated, Reveal® analysis gives you the power to:
Scan.
Test corn silage, haylage and dry hay on-farm
Analyze an unlimited number of samples
Samples can be scanned anywhere, by anyone
Reveal.
Answers to questions about dry matter content immediately
Faster results from faster decision making abilities
Opportunities to improve overall feed management protocols
Refine.
Control diet consistency for improved herd performance
Improve feeding efficiency
What does dry matter variation cost a dairy operation?
Industry experts have identified feeding management, specifically accurate and frequent assessment of silage dry matters to ensure consistent diet delivery, as one of the key areas of opportunity for dairy operations.
The University of Wisconsin has shown dry matter variation of 6-10% between lots of both alfalfa and corn silages. With today's precision diets, those variations in dry matter can result in lost production, wasted nutrients, or both.
What does the Reveal® service cost?
The initial investment for Reveal® analysis is $499, with a monthly service fee of $180 and with a 12-month contract commitment. For a 500-cow operation, the investment equates to about a penny per head per day for an easy-to-use asset that gives them the power to make ration adjustments in real-time, when it's needed. By empowering producers to proactively manage dry matter intake with a high degree of precision in real-time, Reveal® analysis will help dairy operations deliver the consistent diets their herds need to thrive.
Order Reveal® forage analysis today because you need answers now.
Interested in speaking to a representative?