Sarena Lin
About Sarena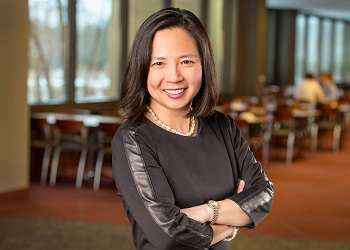 Sarena is president of Cargill's compound animal feed and nutrition business, with responsibility for serving customers and leading more than 11,000 employees in nearly 30 countries.
Sarena joined Cargill in 2011 as corporate vice president for strategy and business development, leading the team that provides the company with guidance on its strategy and portfolio at the enterprise level. She spent the majority of her career as a partner with McKinsey & Company in Taipei and New York, working with more than 30 global companies in various industries. During her 14 years with the firm, she was managing partner of McKinsey's Taipei office and co-leader of McKinsey's China Sourcing Center.
Her broad experience in international business is complemented by an M.B.A. in strategy from the Yale School of Management, a Master of Arts in international relations from Yale University, and a B.A. in computer science from Harvard University. She sits on the Board of Directors at Patterson Companies, Inc., and works with a number of nonprofit organizations, including serving on the Board of Directors for the Greater Twin Cities United Way. She was named one of the Top 10 Corporate Women in Minnesota in 2014.
Get to know Sarena
Q: How does your professional and educational background inform the way you think about opportunities for Cargill's animal nutrition business?
Sarena: Cargill is present in so many different markets, each of which has its own opportunities and challenges. My education in business and international relations, as well as my consulting experience, gave me very broad exposure to best practices in different industries. As we look at various opportunities to help our animal nutrition business grow in ways that benefit our customers, I think it's critical to identify and leverage best practices that already exist in other sectors and bring them into the animal nutrition industry. This kind of cross-pollination can have tremendous benefits for everyone.
Q: Why are you optimistic that we can sustainably meet growing global demand for animal protein?
Sarena: We live in a world that is continuously improving. Science and technology, for instance, are driving great gains. In Cargill, we invest in these tools to better understand how to nourish animals in the most productive, cost-effective way possible. This helps our entire industry use fewer resources while at the same time raising healthier animals that perform at a higher level.
Continuous improvement isn't just confined to the lab, though. Our farmer education programs bring best practices out to barns, fields and ponds all around the globe, so producers can raise animals in the most responsible way while also improving their livelihoods and protecting the environment. This is a key component of how we will sustainably nourish a growing world that wants more animal protein.
Q: What is a passion of yours outside your role at Cargill that also connects back to your work?
Sarena: I take pride and have tremendous passion for helping my community. As a board member for the Greater Twin Cities United Way, I help challenge the organization to discover a deeper understanding of communities in need through data and analytics. We use these tools to figure out where we can close gaps in poverty and education by providing safety nets for families. At Cargill, we do this kind of work every day as we use data and analytics to better understand how we can serve customers and the communities where we operate around the globe.
Q: What does the future of animal nutrition looks like?
Sarena: Animal nutrition is more than just feed. Total animal health management will be the core of the next generation of animal nutrition. We need to continue leveraging data and analytics to drive more precise nutrition, recognizing that animals, just like humans, are all different. As we continue to break this barrier, we will provide animals with the nutrients they need to stay healthy while using fewer resources. The more we know about animal health, the better we can do this.