Tried. Trusted. True.
Quality you can believe in – that's the Vigortone® difference. It started in 1912 when Dr. E.B. Fenton started using high-quality, nutrient-specific ingredients from the finest sources available, always insisting on just the right minerals in precise portions. More than 100 years later, Vigortone® continues to be about quality – first, last, and always.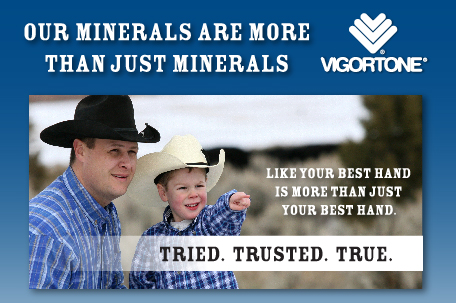 Believe in Consistent Quality and the Nutrient Absorption Advantage
You demand the best for your cattle, which is why we demand the best go into our mineral. With Vigortone®, you can count on nutrients getting to where they will do your animals the most good. Every time. Since each lick contains the same nutrients as the last lick (and the next one), you'll know – you'll just know – you're getting a nutrient absorption advantage you won't find anywhere else. Believe it.
Exceptional Products and Performance to Believe In.
You love every part of your way of life, especially the part where you get the results you expect and need from whatever products you decide to invest in. Vigortone® minerals will deliver on that front as well – with increased utilization of pasture and forage, which can contribute to better health and overall condition. Believe it.
3V Next Generation Beef Minerals
3V minerals utilize the latest research on trace mineral ratios, resulting in increased bioavailability. Special care is given to formulating for low levels of nutrient antagonists with a continued emphasis on uniformity.
*Note: High Magnesium versions available with 10.0%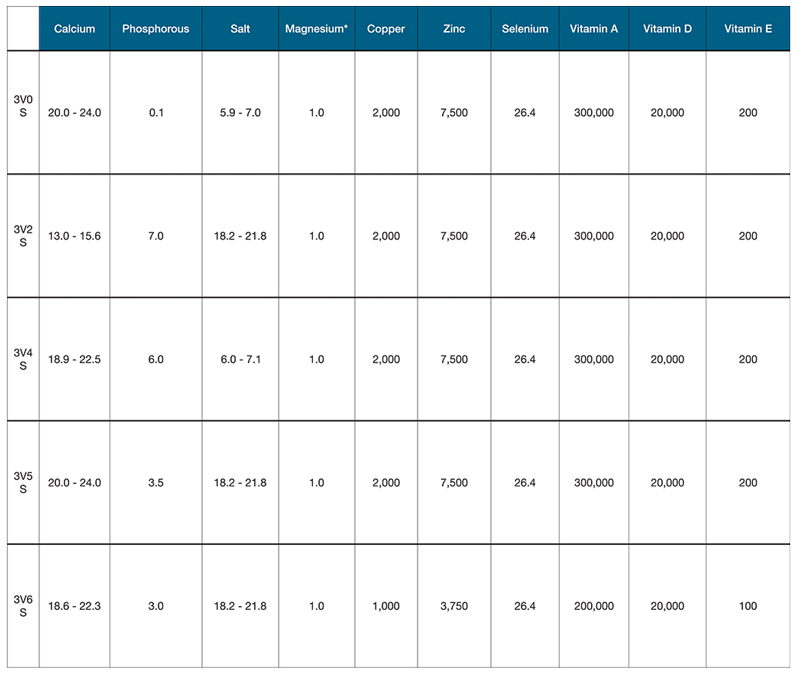 Western Range Minerals
Western Range minerals are specifically designed to supplement forages in the western region of the United States.
*Note: High Magnesium versions available with 10.0%
Additives
We have many additives available to provide even more benefits, including:
| | | |
| --- | --- | --- |
| Deworming | Fly control | Fiber digestion |
| Heat stress reduction | Weight gain | Anaplasmosis control |
Believe in our Customers' Experiences.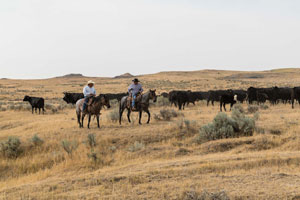 Rieger Cattle Co. from Ismay, Montana, has been a Vigortone® customer since starting with their own cattle in 2010. Cody and Scott Rieger are the third generation to run cattle on a ranch that has been in the family since the 1920's. They are a cow/calf operation focusing on cow fertility and pounds of calves sold and producing quality replacement heifers and the best steer calves that can convert feed into pounds efficiently.
Both Cody and Scott were introduced to Vigortone® mineral when they worked for Jack and Karen Leibee (Vigortone® dealers) when they were in high school. Needless to say, when they decided to use a mineral they chose Vigortone®.
"If you are going to use a mineral, be committed and use it the way it's supposed to be used. Our relationship with Vigortone® goes beyond the products. We have had questions about things we didn't understand. That's when we call Karen or Casey (Vigortone® sales representative). They are always more than willing to come down and help us understand the problem and fix it. There's so much education involved and it's obvious that education is more important to them than just selling a product. The willingness of Karen and Casey to help us build a complete program has led to great health and production results."
Since improving their nutrition program, which included Vigortone®, the brothers have seen higher conception rates, shorter calving intervals, more calves born in the first heat, and healthier cattle.
Believe in Experienced, Trained Support.
Vigortone® mineral may come in a plain brown bag, but that exceptional product inside is backed by the best, most experienced people in the industry. Your Cargill team will be there for you no matter what breed of cattle you raise, what country you live in, what season of year it is, what life cycle/production stage your grass is at, or what specific goals your operation has.
Count on them to:
Thoroughly understand your business and way of life.
Identify your specific needs and recommend the ideal product to address them.
Do right by your cattle and operation because they're driven by your bottom line, not sales goals or financial reward – if it's not right for your cattle and operation, we simply won't recommend it.
Our team is ready, willing and uniquely qualified to use our decades of experience in beef cattle nutrition to deliver cost-effective, performance-maximizing nutrition programs. Believe it.
Vigortone® is ready to deliver – for your cattle, for your way of life, for all the right reasons. Contact us here or call 800-553-4900 to find your local distributor.