Think age before weight.
Because feeding the right nutrition at the right time gets more, healthier pigs to market.
Learn about Nurture™ – a young pig program that adapts to their changing needs.
The right nutrition at the right time is the age-approach to diet formulation. At Cargill, we integrate nutrition expertise, a focus on age and industry-leading technology to help you get more live, healthier pigs through the nursery phase.
Although our industry has seen amazing improvements in sow productivity and litter size, wean-to-finish death loss rates reach as high as 10 percent1. There's even greater need to support young pig development, starting at weaning. Cargill's Nurture program can help.
Right Nutrition at the Right Time
The Nurture program is based on research that led to a focus on feeding pigs based on age rather than weight. This allows us to support the unique needs of young pigs by feeding the right nutrients at the right time to combat issues and ensure projected performance.
Digestive Enzyme Development
During the dynamic period between seven and 35 days of age, diets need to be selected to match the pig's changing needs and to keep costs in balance. Weaning age and weight of the pig influence which diets are optimum after weaning.
Nutrient Sources
Nutrient-dense ingredients, such as plasma proteins and lactose, are important to help 14-day to 28-day old pigs make the transition from mother's milk to dry feed.
Pigs On the Nurture Program Show Improvement
When compared to other feeding programs in a compilation of trials, pigs coming out of the nursery that were fed Nurture showed an improvement in many growth factors:
3.1% increase in average daily gain
2.2% greater feed conversion
1.2-pounds heavier coming out of the nursery
$1.43 return over feed cost
Denny and Julie Russchers and their three sons, Jeff, Jeremy, and Louis, are operators of Precision Pork in Zeeland, Michigan. They own 2,800 sows and roughly market 90,000 pigs per year and have used Cargill's Nurture line since it was released nearly four years ago. They have consistently weaned heavier, more uniform piglets since utilizing the Nurture line and their overall operation has benefited from it. "Heavier piglets create exponential growth throughout their lives, yielding a better performing finisher pig at market," Denny says.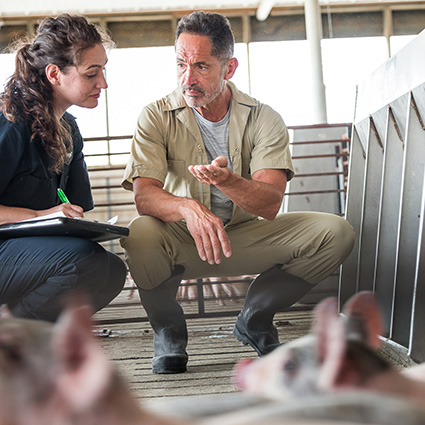 Swine Production
and On-Farm Consulting
Our philosophy around Nurture also includes on-farm support and management practices. Our team of production specialists will work with your team to troubleshoot production problems and help improve and refine management practices from the sow farm to the finishing barn.
For more information about Cargill's Nurture program, click Contact Us to have a Cargill representative follow up with you.