Cargill Sea Salts
Cargill Sea Salts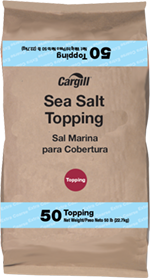 Modern sea salt production is very similar to older methods of pond evaporation production. Sea salt is made by capturing sea water in shallow ponds, where it is allowed to evaporate. Made Naturally with Sun, Wind and Time.™
Just as choosing the right sea salt can mean the success or failure of your brand, working with the right sea salt company can have the same impact. Cargill is a sea salt supplier to the food industry, offering one of the broadest lines of sea salt products available. From crackers to soup, our portfolio of food grade sea salt ingredients is designed to meet your food manufacturing needs. If you need bulk sea salt or bagged sea salt - with or without additives – Cargill can be your sea salt ingredient partner.
A sample of sea salts offered:
• Sea Salt Extra Coarse Topping: A tightly screened sea salt used in a variety of foods, including baked goods, canned or pickled vegetables, dry seasonings/rubs and dry-cured meats.
• Purified Sea Salt Fine: An extra fine granular, white crystalline sea salt used in a variety of food processing applications ranging from dry soup, cereal, spice mixes and as a topping in snack foods.