Gerkens®: Unique for you
Discover the Gerkens® Cocoa Powder that is just right for you​!
Gerkens® Cocoa offers a world of opportunities with the broadest range of powders and the opportunity to tailor-make unique powders for our customers. ​
Cocoa powder is one of the world's favorite ingredients and has an important impact on the taste, texture and visual appeal of chocolate-flavored products. Our customers need a reliable partner for such a crucial ingredient. With specialists at every stage in the production process – from farm to factory – Cargill Cocoa & Chocolate can craft cocoa powders according to specific desires for a wide range of applications including confectionery, bakery, cereals, desserts, dry mixes, dairy and ice cream.
Our powder brand, Gerkens® is the world's leading cocoa powder brand. For over 50 years our Gerkens® Cocoa Engineers have been delivering world-class cocoa powders, with the highest sustainability requirements always in mind. Over that time, Gerkens® has grown to become the leading cocoa powder brand. The Gerkens® range offers the broadest portfolio of off-the-shelf cocoa powder and provide our customers with unique solutions to meet specific requirements.
Contact us today to help us find the cocoa powder that is unique for you.​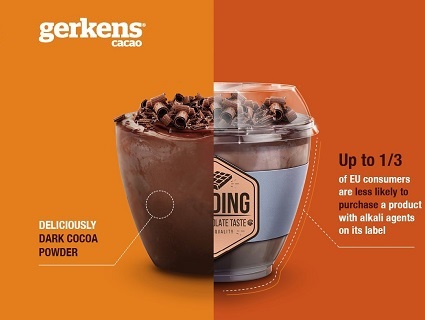 New Gerkens® GS Range cocoa powders
We'd like to present to you the new Gerkens® GS range: a premium selection of five dark cocoa powders that look good inside and out. Each one of these cocoa powders has a distinctive appearance while giving customers the possibility to avoid declaring alkalizing agents. Click below to learn more about the benefits of using the new Gerkens® GS Range.
Some Cargill products are only approved for use in certain geographies, end uses, and/or at certain usage levels. It is the customer's responsibility to determine, for a particular geography, that (i) the Cargill product, its use and usage levels, (ii) the customer's product and its use, and (iii) any claims made about the customer's product, all comply with applicable laws and regulations.