Sodium Reduction Solutions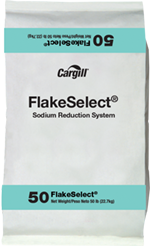 Cargill is committed to helping our customers create great tasting foods and achieve their sodium reduction goals. Our sodium reduction solutions range from specialty salt solutions that maximize flavor and minimize sodium, to functionality enhanced potassium chloride, to sodium reduction systems that mitigate flavor challenges related to reducing sodium.
Beyond quality ingredients, Cargill partners with customers to provide innovative concepts and unsurpassed technical support in creating reduced sodium products. We offer a full portfolio of salt and salt alternatives to meet your needs.