Chester Bartel
For Chester Bartel, specialty canola farming is all about family and community.
Visit his 3000 acre farm in the Red River Valley and you're likely to find a variety of Chester's family members hard at work—his two daughters, his son-in-law, a nephew, and other members of the extended family.
This level of family involvement is a proud tradition at his farm, starting when his grandfather bought the land in the 1940s and continuing as siblings, children and other family members got involved. "My parents always said that the best way to keep kids out of trouble is to put them to work," says Chester.
Continuing the tradition
So Chester got to work, learning about machinery repair at a young age and other tricks of the farming trade. He also learned to weather the inevitable ups and downs that come with the farming lifestyle. "We had some hard times," says Chester. "But even the hard times were rewarding in their own way." As canola oil continues to increase in popularity as a healthy choice for cooking, Chester couldn't be prouder to be a specialty canola farmer. And he does his part to bring the benefits of high oleic canola to his community—from donating oil for all the deep fryers at a community festival to partnering with a local bee keeper to help him produce canola honey.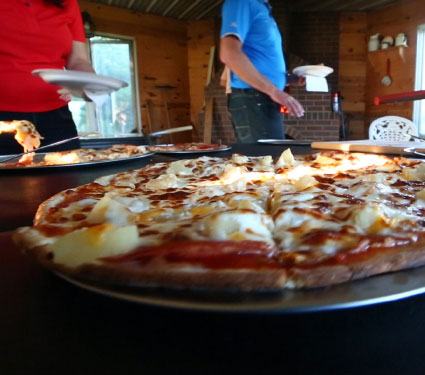 Equally impressive are the Bartel family's weekly pizza parties. Using their outdoor pizza oven, Chester and his wife are convinced that specialty canola oil in their homemade dough is key to the excellent pizzas that will draw 40 or more people from their community to his farm on a summer Sunday.
Chester is so committed to his role in the high oleic canola supply chain that he recently partnered with Cargill employees to give a presentation on specialty canola to foodservice executives at Disney. "The customers want to know where their oil is coming from," says Chester.