Diamond Crystal® Packaged Ice Melt
The number one reason people use ice melt is for safety and no one understands that better than Cargill. Our Diamond Crystal® packaged ice melt products are formulated to cover a wide range of winter conditions. Ice Melting speed, effectiveness at various temperatures, color tinting for uniform coverage, pet safety, and time-extended ice melt activity from blended ingredients are important factors, so we offer a range of ice melt products. We stand behind our ice melt products - with nationwide service and support.
Diamond Crystal® Winter Melt® Ice Melter
Unique sizing mixture of large and small crystals of natural sodium chloride - small crystals melt on contact and large crystals provide longevity and instant traction. Works best at temperatures of 5 degrees Fahrenheit and above. Leaves no oily residue.
Packaging:
25 lb poly bag
50 lb poly bag
4/10 lb bale
Also available in bulk
Diamond Crystal® Jiffy Melt® Blended Ice Melter
A specially formulated blend of magnesium chloride and sodium chloride which allows for fast action and lower application rates. Works down to -10 degrees Fahrenheit. Jiffy Melt® ice melt is the cost-effective choice over premium blends and more expensive substitutes. Leaves no oily residue.
Packaging:
12 lb jug
20 lb poly bag
40 lb poly bag
Also available in bulk
Diamond Crystal® GreenMelt® Tinted Ice Melter
A green-tinted, high performance ice melt product containing a blend of sodium, calcium and magnesium chlorides for faster, colder temperature melting than regular rock salt. GreenMelt® ice melt is green-tinted for easy-to-see coverage on ice and packed snow. Formulated for minimal to no staining when used as directed.
Packaging:
Diamond Crystal® Sno-Paws® Pet Friendly Ice Melter
Diamond Crystal® Sno-Paws® pet-friendly ice melt is specially formulated to keep people and pets safer. Its veterinarian preferred formula contains organic performance boosting chips to provide more melting at colder temperatures than urea alone.
Packaging:
Frequently asked questions - ice melters

Cargill Salt Store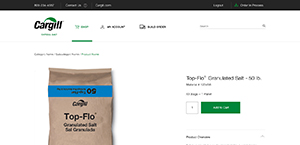 cargillsaltstore.com is an online tool for our customers to place orders, check order history, seek product documentation and much more.
Salt Contact Information
1-888-385-SALT (7258)
Mailing Address
Cargill Salt
PO Box 5621
Minneapolis, MN 55440-5621
Facilities map (PDF)