Cargill at in-cosmetics 2013: Discover the Wonder Inside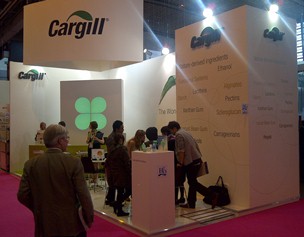 Cargill at in-cosmetics 2013.

Paris, France – 16 April 2013 – From April 16 to 18, Cargill will attend in-cosmetics 2013 at Paris Expo Porte de Versailles. On stand H71, visitors can experience Cargill's high quality, nature-derived ingredients for personal care applications.
Discover naturally sourced texturizing ingredients
Ingredients such as starches, carrageenans and alginates hold a potential that has yet to be fully realized in personal care. Our broad portfolio of texturizing and emulsifying ingredients offers a unique starting point to discover new exciting personal care opportunities.
Marie-Laure Roumiguiere, Personal Care Development Manager said: "Along the lines of this year's H2O-theme, we will showcase different ways to structure water in order to dress cosmetic products with a variety of textures. One of the highlights is C*HiForm™A12747, a nature-derived texturizer based on waxy maize starch, applied in a variety of formulations."
Introducing Cargill's ethanol portfolio
For the first time at in-cosmetics, Cargill will introduce its grain ethanol portfolio, offering a pure, neutral product with analytical and organoleptical stability. This superior quality grain ethanol can be used in a wide range of cosmetic applications including hair and skin care products, deodorants and make-up products and even the subtlest fragrances.
From water to texture
On April 16, at 14:30, visitors can join the "Innovation Seminar" in Theatre 1, where personal care application specialist Claire Duflot will show how to address some of the formulation challenges in texturizing water and how to tailor texture through innovative formulas.
- ends -
Notes for editors:
Cargill
Cargill is an international producer and marketer of food, agricultural, financial and industrial products and services. Founded in 1865, the privately held company employs 142,000 people in 65 countries. Cargill helps customers succeed through collaboration and innovation, and is committed to sharing its global knowledge and experience to help meet economic, environmental and social challenges wherever it does business. For more information, visit http://www.cargill.com.