Truvia® Brand Sweetens First Lower Calorie Spiced Rum Beverage with the Introduction of Malibu® Island Spiced
Truvia® stevia leaf extract helps food and beverage companies meet the growing demand for naturally sweetened lower calorie options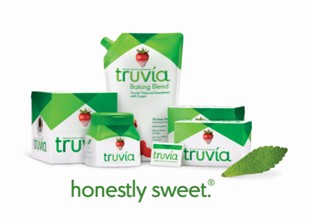 WAYZATA, Minnesota, April 16, 2013 – The Truvia® business provides natural sweetness to a new innovation in the spiced rum category with the use of Truvia® stevia leaf extract in Malibu® Island Spiced, the first lower calorie, spiced option to appear on retail shelves and in bars and restaurants across the country. As the global leader of stevia sweeteners, Truvia® brand offers a great, clean taste which mixes seamlessly with Malibu's signature blend of Caribbean rum and coconut liqueur with light spices, smoked vanilla and cinnamon.
As consumers pay greater attention to the sugar content of beverages , bars and restaurants are looking to provide lighter alternatives to the classic, sugar-based cocktail while maintaining great taste. Truvia® brand has helped meet this demand on several fronts with the introduction of new beverages like Malibu® Island Spiced as well as the launch of Truvia® Behind the Bar product for use in making zero-calorie natural simple syrups.
"The use of Truvia® stevia leaf extract enables significant food and beverage innovation opportunities that meet the growing demand for lower calorie great tasting products. Malibu® Island Spiced sweetened with Truvia® stevia leaf extract offers the great taste consumers have come to expect in a cocktail choice that doesn't pack on the calories," said Breah Ostendorf, Truvia® Ingredient Global Commercial Manager. "This product introduction further demonstrates the increasing consumer demand for products that manage calories and sugar consumption."
"We are excited to be first-to-market with a lower calorie alternative in the growing spiced segment. We chose Truvia® stevia leaf extract as it enabled us to offer the perfect balance between sweetness and strength without the extra calories." said Lisa McCann, Brand Director for Malibu®, Pernod Ricard USA. "With the growing demand among adult women for cocktails that taste great and have fewer calories and the acceptance of Truvia® brand among women, Malibu® is pleased to offer our customers a new and innovative way to enjoy their cocktails."
The Truvia® business leverages Cargill's formulation experts to combine Truvia® stevia leaf extract with a broad portfolio of ingredients and sweeteners, to help food and beverage manufacturers achieve great tasting, reduced calorie products. As an increasingly popular ingredient, the Truvia® logo can be found on over 50 new food and beverage brands in 20 countries. In addition, Truvia® stevia leaf extract is the only stevia sweetener to be managed responsibly from Field to Table with the industry's first sustainable agricultural standard in 2011 and carbon footprint certification in 2012.
Malibu® Island Spiced, 30% ABV and 70 calories/serving, will be available in 1.75L, 1L, 750ml, 375ml and 50ml sizes and will retail for a suggested price of $16.99/750ml.
Contacts
Pam Stauffer, Global Communications Manager, Truvia® Ingredient,office: 952-742-6080, [email protected]
Atalanta Rafferty, Executive Managing Director, RF|Binder, office: 212-994-7511, [email protected]
###
About the Truvia® Business
Truvia® tabletop sweetener is a great tasting, zero-calorie sweetener made with the best tasting part of the stevia leaf. Truvia® tabletop sweetener is #1 in its category of zero-calorie natural sweeteners in the U.S. and is also available to consumers in Europe and Latin America. Truvia® stevia leaf extract is a versatile sweetening ingredient used to reduce calories and sugar in foods and beverages. The Truvia® business uniquely manages its stevia supply chain from Field to Table having established a global agricultural standard for stevia. For more information, visit www.truvia.com.
About Cargill
Cargill is an international producer and marketer of food, agricultural, financial and industrial products and services. Founded in 1865, the privately held company employs 142,000 people in 65 countries. Cargill helps customers succeed through collaboration and innovation, and is committed to applying its global knowledge and experience to help meet economic, environmental and social challenges wherever it does business. For more information, visit Cargill.com and its news center.
About Pernod Ricard USA®
Pernod Ricard USA is the premium spirits and wine company in the U.S., and the largest subsidiary of Paris, France-based Pernod Ricard SA, which employs more than 18,000 people worldwide and is listed on the NYSE Euronext exchange (Ticker: RI).
The company's leading spirits and wines include such prestigious brands as Absolut® Vodka, Chivas Regal® Scotch Whisky, The Glenlivet® Single Malt Scotch Whisky, Jameson® Irish Whiskey, Malibu®, Kahlúa® Liqueur, Beefeater® Gin, Plymouth™ Gin, Seagram's Extra Dry Gin®, Martell® Cognac, Hiram Walker® Liqueurs, Pernod®, Ricard® and Avión™ Tequila (through a joint venture with Tequila Avión); such superior wines as Jacob's Creek® and Brancott Estate®; and such exquisite champagnes and sparkling wines as Perrier-Jouët® Champagne, G.H. Mumm™ Champagne and Mumm Napa® sparkling wines.
Pernod Ricard USA is based in Purchase, New York, and has roughly 850 employees across the country. Pernod Ricard USA urges all adults to consume its products responsibly and has an active campaign to promote responsible drinking. For more information on this, please visit: www.acceptresponsibility.org.
Mintel, May 2011, Healthy Dining Trends