Cargill extends range of certified sustainable cocoa products in North America
Latest addition to the company's product portfolio as part of the Cargill Cocoa Promise to develop a sustainable cocoa supply chain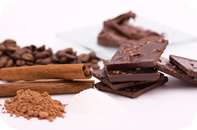 Lititz, Penn, 5 June 2013 – Cargill is increasing the range and availability of its certified sustainable cocoa and chocolate products for customers in North America. The products are the latest addition to the company's sustainable cocoa product portfolio as part of its commitment to supporting sustainable cocoa and chocolate, backed by the Cargill Cocoa Promise.
The Cargill Cocoa Promise is the company's commitment to the development of a sustainable cocoa supply chain and to meeting the growing demand for sustainable cocoa beans by making a difference in three key areas – improving the lives of cocoa farmers; supporting cocoa farming communities; and investing in the future of cocoa farming. Our long-term approach for a sustainable supply chain uses certification and labels as an enabler to help raise standards and to provide farmers with financial incentives.
In response to growing consumer demand to know where chocolate products come from and how they are produced, Cargill's Gerkens® cocoa powders, as well as its Peter's®, Wilbur® and Veliche® chocolate brands will now be available with certification options, including UTZ Certified, Rainforest Alliance Certified™ and Fairtrade certification.
"We are now able to provide our North American customers the additional benefit of sustainable certification for the high quality products and brands they rely on. It means manufacturers will be able to offer products to their consumers with greater reassurance they have been produced sustainably and that they are making a positive difference to smallholder cocoa farmers," said Bryan Wurscher, president of Cargill's cocoa and chocolate business in North America.
Cargill is training over 60,000 farmers in Côte d'Ivoire and 15,000 in Ghana and is on target to source over 100,000 tons of certified sustainable cocoa beans from Côte d'Ivoire by 2015 – making its program the largest of its kind in the country. It has also extended its activities to other major cocoa producing markets including Cameroon, Brazil, Vietnam and Indonesia.
- ends -
Cargill
Cargill is an international producer and marketer of food, agricultural, financial and industrial products and services. Founded in 1865, our privately held company employs 142,000 people in 65 countries. We help customers succeed through collaboration and innovation, and are committed to sharing our global knowledge and experience to help meet economic, environmental and social challenges.
Cargill's Cocoa Promise
Cargill's Cocoa Promise is a commitment by the company made in 2012 to continue to partner with local governments, non-governmental organizations (NGOs), customers and farmer organizations – to make a difference to the lives of farmers and their communities, and to create value for our customers and our business by securing better quality cocoa. Cargill will continue to invest and provide financing, training and support to maintain and strengthen a sustainable cocoa supply chain in Côte d'Ivoire, Ghana, Cameroon, Vietnam, Indonesia and Brazil. Watch our video.
About Cargill Cocoa & Chocolate:
Cargill Cocoa & Chocolate offers the food industry a wide range of both standard and customized cocoa and chocolate ingredients to be used in delicious bakery, confectionery, and dairy applications all over the world. Our product range includes high quality Gerkens® cocoa powders, chocolate including Wilbur®, Peter's® and Veliche®, coatings, fillings, cocoa liquors and cocoa butters. With years of experience in technical food expertise Cargill supports its customers in new recipes and new product development.
Our facilities in Belgium, Brazil, Canada, Côte d'Ivoire, France, Germany, Ghana, the Netherlands, UK and the USA are fully dedicated to produce in accordance with the highest food safety standards.
To secure a good quality and sustainable supply of cocoa beans we have our own cocoa bean sourcing operations for buying, handling and/or exporting of cocoa beans in Brazil, Cameroon, Côte d'Ivoire, Indonesia and Vietnam. Presence in all the leading producing countries allows Cargill to oversee the supply chain from beans at origin to cocoa and chocolate products on our customers' doorstep. In addition, extensive market research and analysis proves to be a source of valuable information to our customers.
For more information, please visit: North America www.cargillfoods.com/chocolate
# # #