Food banks in the 21st century: seven things you might not know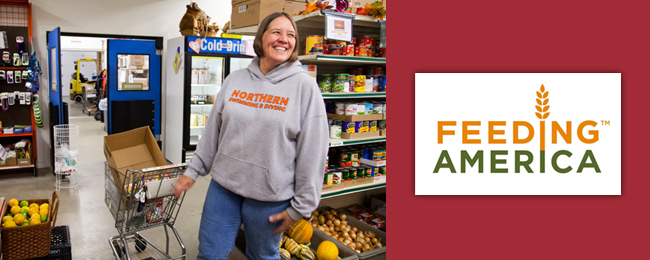 Soup cans. Ramen noodles. Meals in a box. That's what you might expect on the shelves at your local food bank. But in many ways it's an outdated image that overlooks how emergency food providers have grown and changed in recent years.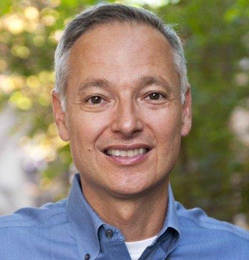 Bob Aiken, Feeding America president, shares facts about how today's food banks are different from the food banks of 20 years ago.
Feeding America serves 37 million people per year – including 14 million children – through its network of more than 200 food banks and approximately 60,000 food pantries and soup kitchens.
As Cargill announces a new $6 million donation, Feeding America President Bob Aiken shared some illuminating facts about how today's food banks, and the meals they provide, look quite different than they did 20 years ago.
Fresh fruits and vegetables are now on the menu
"Produce represents over a third of what we distribute. The products that we distribute today look much more like the full range of products that a consumer would buy in a grocery store, including produce, dairy and meats. If you were to look at food banking 10, 15 and 20 years ago, you wouldn't have seen that mix of foods. It would have been primarily focused on canned goods and other shelf-stable items. So that's a really significant change."

"And one benefit of that is that we're able to deliver more healthful and nutritious foods along the way, because many of the perishable foods that we distribute happen to be foods that are encouraged in accordance with USDA guidelines."
Local food is also on the menu
"We believe in sourcing food as close to the point that you're going to distribute it as you can. And that's for three reasons: one, the food is typically going to be fresher and in better condition; two, the environmental footprint is smaller if it has to travel a smaller distance; and it reduces the cost. So a lot of the food that's in our pantries is sourced locally."
Food banks have become pioneers in reducing food waste
"There's more than enough food to feed everyone in the U.S., but about 70 billion pounds a year of food go to waste and are never fed to people. What we do is work with the entire food supply chain to capture food across the supply chain that would otherwise go to waste."

"There's an increased focus on reducing food waste as part of the sustainability efforts that are taking place across the food industry. We happen to think that the single best thing to do with food that would otherwise go to waste is to capture it and get it served to people who would otherwise be hungry."
Some parts of the country provide more to food banks than others
"While a lot of the food is local, there's also food that does travel across the country. A lot of the produce we distribute across the country comes from California, because in the Midwest in the winter we don't have fresh produce."

"There's so much produce grown in California that would otherwise go to waste that the food banks and food pantries there can't use all the food that's grown there. We make certain that that abundance is captured and then distributed more broadly across the country."
Food banks have to enforce rigorous food safety standards
"As you think about this broader array of foods, in particular perishable foods like produce, food safety issues become a much more relevant concern than if you're just sharing shelf-stable products. When you're distributing perishable items, you have to be very concerned with things like cold-chain management and cross-contamination. And so we at Feeding America have been working very hard to build our expertise and capability in food safety."

"The donation from Cargill will help us to continue to build our food safety capabilities to world-class standards. That benefits all the food that flows throughout our network. It allows us to feel confident and comfortable that no person who's served by Feeding America is going to be put at risk of a food-borne illness."
Most of what food banks serve comes straight from the food industry
"Food drives are an important source of food to us. They're such an important opportunity to raise awareness around hunger. But they represent today about 5 percent of the total food that we distribute as a network. The real volume, the other 95 percent of the food, comes from working with the food industry to capture surplus food."

"For example, last year Cargill donated 1.7 million pounds of food, and that translated into about 1.4 million meals that were served through our food banking system to people in need."
Food insecurity is worse now than at the start of the recession
"One thing many people don't realize is that rates of food insecurity in rural America are just as high as they are in our cities in the U.S., and about 15% of all households in the U.S. are food insecure."
"What food insecurity means is that people are at risk of hunger. They have a concern that they won't be able to provide meals for their family. What we've seen is that, starting with the Great Recession in 2008, the need for emergency food assistance has grown fairly dramatically. We see that we are serving many more clients today than we were then. Expenses for things like fuel are much higher today than they once were and so what we find is that the need for the emergency food assistance that we provide continues to be very high, even five years after the start of the recession."

"I find that as people become aware of the magnitude of hunger in the U.S., they want to help. What we want to do is to tell those stories. There are people who are food insecure in every county in America, and sharing their stories and those of advocates and donors is very important to us."