Cargill completes modernization of West Fargo oilseed facility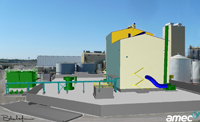 Original rendering of the rebuilding and expansion project at Cargill's oilseed processing plant in West Fargo.

WEST FARGO, N.D. — Sept. 11, 2013 — In time for the 2013 harvest, Cargill has completed the rebuilding and expansion project at its oilseed processing plant in West Fargo. Construction began in the fall of 2011.
The facility processes canola and sunflower seeds into edible oil for food processing and foodservice businesses, flaxseed for linseed oil for industrial use, and protein meal for animal feed. The $50-million-plus investment includes a moderate expansion in overall capacity. The expansion reflects increased demand for products like sunflower and canola oil, as well as the company's commitment to farmer customers who supply the plant.
"We modernized a facility that was a little more than 30 years old and also expanded our capacity," said Jaysen Schock, facility manager. "The project allows us to be a good market for our farmer and elevator customers. It also helps keep pace with the growing demand from our food customers."
News of the project's completion was welcomed by a number of officials.
"The plant will keep sunflower oil and meal competitive with other products and aid in obtaining more market opportunities for sunflower producers," said John Sandbaken, Executive Director of the National Sunflower Association.
North Dakota Governor Jack Dalrymple said: "Congratulations to Cargill on the completion of its expansion project and on its continued growth in North Dakota. Cargill is a strong partner in growing North Dakota's value-added agriculture industry and in diversifying our economy. We thank Cargill for their continued investment in North Dakota and look forward to continuing to work with them to advance value-added opportunities for our farmers."
###
Cargill is an international producer and marketer of food, agricultural, financial and industrial products and services. Founded in 1865, the privately held company employs 140,000 people in 65 countries. Cargill helps customers succeed through collaboration and innovation, and is committed to applying its global knowledge and experience to help meet economic, environmental and social challenges wherever it does business. For more information, visit www.cargill.com .