Cargill launches new risk management tools to help customers manage cocoa price volatility
Amsterdam, The Netherlands – 11 September 2013 – Cargill's cocoa and chocolate business, one of the leading players in the global cocoa and chocolate market, has launched three new tools in its portfolio of Price Risk Services to help customers more easily manage price risk.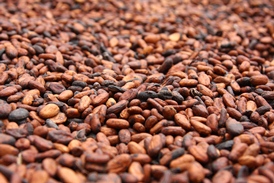 The new protective structures, CocoaPacer, CocoaPacer Cap and CocoaRange Cap are designed to help protect customers from volatility when pricing their cocoa ingredients.
These new protective structures, CocoaPacer, CocoaPacer Cap and CocoaRange Cap are designed to help protect customers from volatility when pricing their cocoa ingredients. For example, they can offer protection within ingredient purchase contracts against sudden increases in cocoa prices, yet preserve the potential benefit of a discount if the price falls before physical shipment.
Cargill is one of only a handful of companies to offer price risk management for cocoa and chocolate ingredients, and is the only global cocoa and chocolate company to offer a dedicated Price Risk Services programme.
Customer Risk Manager Tom King explains: "Cargill has been trading agricultural commodities around the world since 1865, so managing price risk is part of our heritage and a strength we can share with our customers to help them become even more successful. Our CocoaPacer, CocoaPacer Cap, and CocoaRange Cap products are the latest addition to our -'family-' of risk services. They are straightforward, transparent and can be clearly explained – so customers spend less time and energy debating an array of risk management decisions. These pricing structures are embedded in existing physical contracts of our customers."
Cargill's protective structures offer an additional approach to managing price risk when sourcing ingredients; they should be used as a complement to traditional pricing approaches currently used by our customers. An important feature is to provide customers with a hedge benefit, which can limit the uncertainty and anxiety associated with making a traditional pricing decision. Price risk management is about determining the appropriate balance of risks in light of an organisation's business objectives.
"Because of continued cocoa price volatility, many food manufacturers are coping with extraordinary uncertainty when managing price risk exposure to cocoa and chocolate ingredients. We feel that, by combining our risk management discipline with our knowledge of the cocoa and chocolate sector, we have developed a consistent and methodical approach to managing price risk that is of real benefit to our customers", concluded King.
For further information, please visit: http://www.cargillcocoachocolate.com/risk-services/protective-structures/index.htm
# # #
Notes for editors:
About Cargill
Cargill is an international producer and marketer of food, agricultural, financial and industrial products and services. Founded in 1865, the privately held company employs 140,000 people in 65 countries. Cargill helps customers succeed through collaboration and innovation, and is committed to sharing its global knowledge and experience to help meet economic, environmental and social challenges. For more information, visit http://www.cargill.com.
About Cargill Cocoa & Chocolate
Cargill Cocoa & Chocolate offers the food industry a wide range of both standard and customised cocoa and chocolate ingredients to be used in delicious bakery, confectionery, and dairy applications all over the world. Our product range includes high quality Gerkens® cocoa powders, chocolate including Wilbur®, Peter's® and Veliche®, coatings, fillings, cocoa liquors and cocoa butters. With years of experience in technical food expertise Cargill supports its customers in new recipes and new product development.
Our facilities in Belgium, Brazil, Canada, Côte d'Ivoire, France, Germany, Ghana, the Netherlands, UK and the USA are fully dedicated to produce in accordance with the highest food safety standards.
To secure a good quality and sustainable supply of cocoa beans we have our own cocoa bean sourcing operations for buying, handling and/or exporting of cocoa beans in Brazil, Cameroon, Côte d'Ivoire, Indonesia and Vietnam. Presence in all the leading producing countries allows Cargill to oversee the supply chain from beans at origin to cocoa and chocolate products on our customers' doorstep. In addition, extensive market research and analysis proves to be a source of valuable information to our customers.