Cargill, TEVA Energy, commission large-scale solar thermal system at Fresno beef plant; improve facility's environmental footprint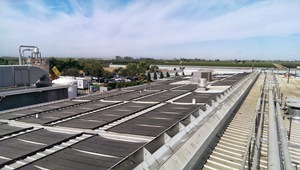 Solar array at Cargill's Fresno beef processing plant. The plant added solar energy to pre-heat water used throughout the plant for food safety and sanitation purposes.

FRESNO, Calif. – September 23, 2013 – Cargill and TEVA Energy, LLC commissioned the largest solar energy system at a meat processing facility in California. Cargill's Fresno beef processing plant has added solar energy to pre-heat water used throughout the plant for food safety and sanitation purposes, reducing its fossil fuel energy requirements, thereby reducing the facility's environmental footprint. This solar energy recovery system, coupled with an existing methane recovery system installed several years ago, reinforces the facility's commitment to continually evaluating and incorporating renewable energy.
"The commissioning of this solar thermal system is another milestone toward truly sustainable production at our Fresno beef processing facility," said Jon Nash, Cargill's Fresno plant general manager. "We're taking a comprehensive approach using several complementing technologies to achieve our sustainability goals. The TEVA solar system is an important component of that comprehensive initiative that reinforces our focus on environmental stewardship and resource conservation, while serving our customers and being a good corporate neighbor."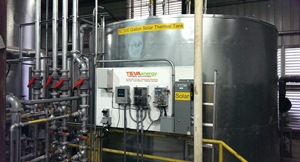 TEVA solar thermal tank installed at Cargill's Fresno beef processing plant.
"Energy savings were achieved almost immediately after the commissioning of the solar energy system at Fresno," said Delshawn Brown, environmental manager at the Fresno facility. "At current energy rates, we'll certainly meet the computer-modeled performance levels and deliver the expected benefits to Cargill, TEVA and the residents of the San Joaquin Valley."
System performance is being monitored in real time by TEVA, Cargill and the state's California Solar Initiative program through remote metering, as well as on-site monitoring equipment. "TEVA Energy's design and installation performance was stellar and they worked closely with our team, always going the extra mile throughout the process," said Ashley Apple, technical safety facilitator at the Cargill facility. "The results speak for themselves, with strong performance numbers and praise from county and state inspectors." The state's California Solar Initiative – Thermal inspector, Thomas Scott, added: "TEVA Energy has raised the bar with this solar installation at Cargill."
"For large scale-applications like this, we custom design each system to meet the specific needs of the facility," stated Harry Gordon, TEVA Energy senior project manager. "It's definitely not a one-size-fits-all scenario, but Cargill's high level of professionalism and commitment to safety made for a very smooth and rewarding project experience."
TEVA and its financier, Skyline Innovations, Inc., installed and own the solar system, eliminating the capital investment Cargill would otherwise need to make to gain the benefits from solar water heating. To finance the project, TEVA and Skyline aggregate incentives with the income stream from the solar energy sold to Cargill at rates below their natural gas rates.
"This is a true win for everyone" said Nash, "especially the environment, and we're thrilled to be involved."
Cargill's Fresno beef processing facility is one of the largest of its type in California, producing more than 124,000 tons of beef products annually and employing 975 Californians.
"It's an honor to produce beef that feeds millions of people every day with safe, nutritious, fresh and affordable protein, and now we're that much closer to achieving full energy sustainability at this facility," said Nash. "Installing this solar system at the Fresno facility simply makes sense for Cargill, our neighbors, and the environment."
# # #
About Cargill
Cargill is an international producer and marketer of food, agricultural, financial and industrial products and services. Founded in 1865, the privately held company employs 140,000 people in 65 countries. Cargill helps customers succeed through collaboration and innovation, and is committed to applying its global knowledge and experience to help meet economic, environmental and social challenges wherever it does business. For more information, visit Cargill.com and its news center.
About TEVA Energy, LLC
Altamonte, Fla.-based TEVA Energy provide cost-effective solar water heating technologies that enable it to provide renewable energy to commercial and industrial facilities at rates below equivalent fossil fuel energy rates. At its own expense, TEVA designs, builds and maintains its systems on the client's site, "greening" their facility. TEVA services large industrial and commercial facilities. More information is available at: www.TEVAenergy.com.
Media Contact: [email protected]