Horizon Milling study identifies what attributes drive consumers to like or dislike whole wheat bread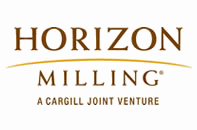 LAS VEGAS – Oct. 7, 2013 – Horizon Milling today announced initial findings from its proprietary multi-year research program to understand what drives liking and disliking of whole wheat breads by specific consumer segments at the 2013 International Baking Industry Exposition (IBIE®).
"With pressure coming from consumers, government and public health organizations to improve the nutritional value of foods, we believe there are opportunities for growth around whole wheat," said Megan Speas, director of marketing at Horizon Milling. "By understanding why consumers like, and dislike, whole wheat bread, we can help our customers optimize how they develop and innovate using various whole wheat flours."
The study was multifaceted. The first step was to survey 1,400 consumers about their attitudes and behaviors around pre-sliced packaged breads. From this nationally representative sample, 360 adults and 170 K-12 children were selected to participate in a consumer taste test. During the test, each tasted 25 different whole wheat breads. The consumers scored them all on a variety of metrics – for example, overall liking, texture, appearance and purchase intent. Some breads were very well liked, others less so.
In order to analyze the commonalities between breads that were liked or disliked by various consumer segments, a trained panel at North Carolina State University developed and used five quantitative sensory attribute scales: taste, flavor, texture, appearance and aroma. These scales enabled Horizon Milling to characterize, or finger print, the bread which provided insights into how various whole wheat flours contribute to whole wheat bread's sensory characteristics.
Overall, results from the study provided an understanding of what drives liking and disliking of whole wheat breads that can be used to drive improvements and innovations in the whole wheat marketplace.
Specific findings from the study include:
Consumer Segmentation.
Consumers fell into unique segments defined by their demographics (e.g., age, income), behaviors (e.g., brand loyalty), and attitudes (e.g., how they feel about certain attributes) in relation to bread. "Perhaps the greatest divide occurred between adults and children. We saw that kids and adults have very different opinions about what makes a great whole wheat bread. Characteristics that drove liking for adults often drove disliking for children," said Elizabeth Uriyo, Horizon Milling's vice president of R&D.
Winning whole wheat flours surfaced.
During the sensory component of the study, findings emerged around the impact whole wheat flours have on finished breads. "We learned that particle size doesn't have an impact on the liking of finished breads, for example. In other words, a finer particle size didn't correlate to higher overall liking scores," said Uriyo.
Characteristics of bread that drive consumer liking (and disliking).
While the characteristics that drive liking and disliking can vary greatly among segments, a few universal truths surfaced. On the taste scale, when bitterness is reduced liking is increased. Further, when sweetness and umami notes increase, liking is again increased.
New product opportunities.
The study illuminated white space in the marketplace, where optimal combinations of whole wheat sensory characteristics can maximize liking for particular consumer segments. An online market simulator tool has been developed as one output of the research. It acts as a modeling tool that can be used to predict the impact certain changes to bread will have on liking. For example, the market simulator could predict the impact the addition of flakes to the topping would have on liking. Additionally, we can model the potential effect that certain attributes have on the price a consumer is willing to pay for bread.
Historically, about 80 percent of new grocery products fail and Uriyo hopes this research will help close that gap for bakers that produce whole wheat products: "Now that we have started to pinpoint the drivers of liking in whole wheat bread, we believe these insights can help our customers develop whole wheat products with the sensory characteristics that delight consumer's palettes."
###
About Cargill
Cargill is an international producer and marketer of food, agricultural, financial and industrial products and services. Founded in 1865, the privately held company employs 140,000 people in 65 countries. Cargill helps customers succeed through collaboration and innovation, and is committed to applying its global knowledge and experience to help meet economic, environmental and social challenges wherever it does business. For more information, visit Cargill.com and its news center.
About Horizon Milling, LLC
A leading U.S. flour miller, Horizon Milling, LLC is a joint venture between CHS Inc. (www.chsinc.com) and Cargill, Incorporated. Horizon Milling combines the expertise of a global food ingredients manufacturer with the supply assurance capabilities of a national, farmer-owned cooperative to provide customers with innovative, flour-related product and service solutions. For more information, visit http://www.horizonmilling.com.
Media Contact: [email protected]