Cargill celebrates five years in Ghana and renews its partnership with CARE to support sustainable cocoa
Underlines continued commitment to Ghana and to growing a sustainable cocoa sector
Renewing three-year, U.S. $800.000, partnership with CARE to empower cocoa communities
Cargill's Gerkens® Ghana cocoa powders now available to customers in 24 countries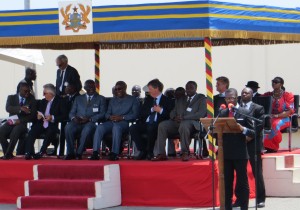 Cargill celebrated the fifth anniversary of its cocoa processing operations in Ghana.
Tema, Ghana – 05 November 2013 – Cargill has celebrated the fifth anniversary of its cocoa processing operations in Ghana by reaffirming its support to growing and developing the country's cocoa sector. As part of its continued commitment to sustainable cocoa through the Cargill Cocoa Promise, the company has announced the renewal of its partnership with CARE to support smallholder cocoa farmers in Ghana.
"We are delighted to mark our fifth year in Ghana by renewing our partnership with CARE to improve farmers' livelihoods and support the development of sustainable cocoa in Ghana", said Jos de Loor, president of Cargill's cocoa and chocolate business.
"Ghana has built its reputation throughout the world for its outstanding quality cocoa. Over the past five years we have been able to produce a diverse range of locally processed high quality cocoa products to meet the growing demand from our customers across the world and create value for the Ghanaian cocoa sector."
Cargill's U.S. $100 million state-of-the art processing plant is the largest of its kind in the country and processes Ghanaian cocoa beans to produce Cargill's Gerkens® Ghana cocoa powders, which are made available to customers in 24 countries, including Japan, the United States, China, Switzerland and Germany.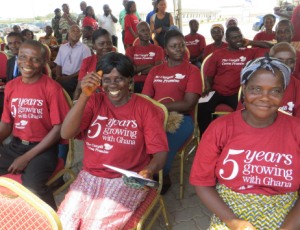 Cargill announced the renewal of its partnership with CARE. The partnership helps support smallholder cocoa farmers in Ghana through farmer field schools. Over 9,500 farmers are already trained in Ghana.
Cargill has announced the renewal of its partnership with CARE for an additional three-year period, with a commitment of over U.S. $800.000. The renewal is part of Cargill's global partnership with CARE, and the Rural Education Project in Ghana is key to supporting the Cargill Cocoa Promise, the company's global commitment to the development of a sustainable cocoa supply chain, With over 9,500 farmers already trained in Ghana to date, the Promise aims to reach over 20,000 farmers through dedicated farmer field schools by 2016.
Over the next three years, the CARE project aims to build on achievements since 2006 to improve livelihoods in 110 cocoa communities in Ghana. Through a community development approach the project will continue to improve the livelihoods of cocoa farming households, increase access to education for local children and support sustainable cocoa production. Over the next three years the project aims to:
Help increase the incomes of over 5,500 farmers and their families
Enable over 12,500 children to graduate from primary school
Provide support to over 3,000 parents to improve the education and nutrition of their children
Train 850 teachers and education officials
"Again and again, we have seen how much Cargill takes its responsibility as a leading player in the cocoa industry very seriously. We appreciate its partnership to enable our farmers to sustainably produce high quality beans for its customers," comments Tony Fofie, chief executive of the Ghana Cocoa Board.
- ends -
Notes for editors:
About Cargill
Cargill provides food, agriculture, financial and industrial products and services to the world. Together with farmers, customers, governments and communities, we help people thrive by applying our insights and nearly 150 years of experience. We have 142,000 employees in 67 countries who are committed to feeding the world in a responsible way, reducing environmental impact and improving the communities where we live and work. For more information, visit Cargill.com and our News Center.
About Cargill Cocoa & Chocolate
Cargill Cocoa & Chocolate offers the food industry a wide range of both standard and customised cocoa and chocolate ingredients to be used in delicious bakery, confectionery, and dairy applications all over the world. Our product range includes high quality Gerkens® cocoa powders, chocolate including Wilbur®, Peter's® and Veliche®, coatings, fillings, cocoa liquors and cocoa butters. With years of experience in technical food expertise Cargill supports its customers in new recipes and new product development.
Our facilities in Belgium, Brazil, Canada, Côte d'Ivoire, France, Germany, Ghana, the Netherlands, UK and the USA are fully dedicated to produce in accordance with the highest food safety standards.
To secure a good quality and sustainable supply of cocoa beans we have our own cocoa bean sourcing operations for buying, handling and/or exporting of cocoa beans in Brazil, Cameroon, Côte d'Ivoire, Indonesia and Vietnam. Presence in all the leading producing countries allows Cargill to oversee the supply chain from beans at origin to cocoa and chocolate products on our customers' doorstep. In addition, extensive market research and analysis proves to be a source of valuable information to our customers.
For more information, visit http://www.cargillcocoachocolate.com
About CARE
Founded in 1945 with the creation of the CARE Package, CARE is a leading humanitarian organization fighting global poverty. CARE places special focus on working alongside poor girls and women because, equipped with the proper resources, they have the power to lift whole families and entire communities out of poverty. Last year CARE worked in 84 countries and reached 83 million people around the world. To learn more, visit www.care.org.
# # #