Cargill's AKEY business celebrates 50 years of leadership in animal nutrition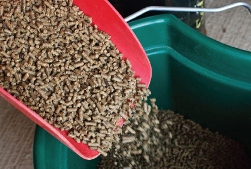 Cargill's AKEY business celebrates 50 years of leadership in animal nutrition
BROOKVILLE, OH – Nov. 13, 2013 – Cargill's AKEY® business celebrates 50 years of service and leadership in providing customers with nutritional solutions, services, and research-proven feeding programs and products for the livestock, poultry and feed industries.
AKEY was founded in 1963 by Carl S. Akey, an entrepreneurial swine producer with a passion for improving nutritional programs. He was committed to developing a business to provide producers and feed manufacturers with efficient access to practical nutrition technology to grow their businesses and profits.
"The AKEY team is as committed today as our founder was 50 years ago to providing our customers with recommendations and products based on sound science and solid research," said Cargill's AKEY President and Managing Director, Charles Shininger. "We continue to develop new ways to bring our global resources and expertise to our customer and supplier relationships and work daily to bring customers new and expanded nutrient knowledge."
Since 2011, AKEY® has been part of Cargill's premix and nutrition business which develops, manufactures and sells customized animal nutrition products and services for customers primarily focused on beef, dairy, ruminants, poultry and swine.
"In addition to the value we bring our customers, we have been a contributor to the local economies and a responsible corporate steward in the communities where we operate for 50 years," added Shininger. "We have many long-term employees who have been important to serving our customers and critical to the success of our business."
###
About Cargill
Cargill provides food, agriculture, financial and industrial products and services to the world. Together with farmers, customers, governments and communities, we help people thrive by applying our insights and nearly 150 years of experience. We have 142,000 employees in 67 countries who are committed to feeding the world in a responsible way, reducing environmental impact and improving the communities where we live and work. For more information, visit Cargill.com and our News Center.