Cargill expands German operations with new ethanol plant
Barby, Germany – 17 December 2013 – Cargill has announced that it will invest 60 million Euros in building a new ethanol facility in Barby, Saxony Anhalt, Germany. The plant will produce premium ethanol destined for the German and European beverage, cosmetic and pharmaceutical industries.
"This investment by our starches and sweeteners business will allow us to further build on our ethanol expertise in Europe, enabling us to better serve our customers throughout the region," said Frank van Lierde, Executive Vice President at Cargill.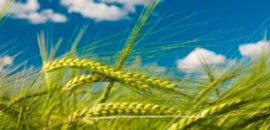 Cargill's new ethanol facility in Barby, Saxony Anhalt, Germany will produce ethanol by using feedstock from Cargill's adjacent wheat facility.
The new facility will be built alongside Cargill's existing wheat processing plant on the company's site in Barby. The plant will produce ethanol through state of the art innovative technology by using feedstock from the adjacent wheat facility, using primarily locally grown wheat.
Van Lierde continued: "This expansion will complement our existing network of ethanol facilities in Manchester in the United Kingdom, Sas van Gent and Bergen op Zoom in The Netherlands and Wroclaw in Poland."
The new plant will be built to the highest environmental, food and health and safety standards, using the best available technologies. It is expected to be operational by the autumn of 2015.
- End -
About Cargill
Cargill provides food, agriculture, financial and industrial products and services to the world. Together with farmers, customers, governments and communities, we help people thrive by applying our insights and nearly 150 years of experience. We have 142,000 employees in 67 countries who are committed to feeding the world in a responsible way, reducing environmental impact and improving the communities where we live and work. For more information, visit Cargill.com and our News Center.
Cargill in Germany
Cargill has been active in Germany since 1955 and employs 1,700 people at 13 locations – in Barby, Berlin (two locations), Frankfurt-Höchst, Hamburg (three locations), Klein Schierstedt, Krefeld, Mainz, Malchin, Riesa and Salzgitter.
Cargill in Barby
Chancellor Dr. Helmut Kohl laid the foundation stone in Barby on 10 October 1991 as one of the first large investments in the East German federal states after re-unification. The starch plant at Barby in the State of Saxony-Anhalt is situated in the fertile Magdeburg plains, one of Germany's best grain growing regions. It is one of Europe's largest wheat starch factories 149 employees here in Barby process wheat into starch, glucose syrups and wheat proteins which are used in everyday products, such as sweets, drinks, convenience blends, baking mixes, and also in paper, corrugated cardboard, animal feed and the chemical industry.