Cargill's West Kalimantan plantation receives RSPO certification
PT Harapan Sawit Lestari's certification covers both company and smallholders

Indonesia, February 18, 2014 – Cargill today announced that its oil palm plantation in West Kalimantan, PT Harapan Sawit Lestari, has received the Roundtable on Sustainable Palm Oil (RSPO) certification, covering all of PT Harapan Sawit Lestari's operations – Manis Mata and Paku Juang mills, inti (company-owned) and KKPA (Koperasi Kredit Primer Anggota, cooperative credit scheme - smallholder) estates.
This is Cargill's second RSPO certification, after the first received by PT Hindoli in South Sumatra. PT Indo Sawit Kekal, Cargill's other plantation in West Kalimantan, is in the process of being RSPO certified.
The RSPO, a global, multi-stakeholder initiative on sustainable palm oil, brings together organizations such as environmental and social NGOs, growers, manufacturers and retailers of palm oil products. It aims to promote the growth and use of sustainable oil palm products through credible global standards and the engagement of these stakeholders.
With the demand and use of palm oil expected to grow unabated in the years to come, it is important to ensure the sustainable and efficient management and production of palm oil, guaranteeing a consistent, and environmentally and socially sustainable supply. Over the last decade, the Indonesian palm oil industry has been a significant driver of the overall growth in palm oil production, producing over 31 million tons in the last year alone.
"Sustainable practices have always been the cornerstone of our plantation operations", said John Hartmann, Chief Executive Officer, Cargill Tropical Palm. "They extend to all aspects of our work, relationships with stakeholders and operations as a producer of certified sustainable palm oil. I'm very proud of our teams in our West Kalimantan and South Sumatra plantations in how they have stayed true to our guiding principles in helping our stakeholders grow and thrive."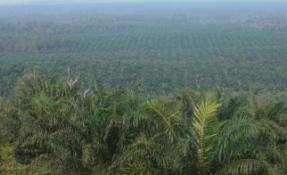 Pictured above: Cargill's West Kalimantan, PT Harapan Sawit Lestari palm plantation. The palm plantation is one of Cargill's three palm plantations located in Indonesia.
Cargill currently owns and operates three palm plantations in Indonesia – PT Harapan Sawit Lestari and PT Indo Sawit Kekal in West Kalimantan, and PT Hindoli in South Sumatra. Cargill has had its own policies in place for responsible palm production on its plantations, even prior to the establishment of the RSPO principles. These include commitments to not plant on high conservation value areas, not develop new plantations on deep peat land or land that would threaten biodiversity, as well as a strict no-burn policy for land preparation.
"I credit the honor of RSPO certification to the unwavering hard work and dedication of our employees and smallholder partners. We are extending responsible production practices beyond our plantation and are focusing on helping surrounding independent smallholder farmers embrace sustainability," said Ong Kee Chau, President Director, PT Harapan Sawit Lestari. "We are committed to protecting the environment in which we operate, while at the same time, helping meet the increasing global demand for sustainable palm oil."
In August last year, PT Harapan Sawit Lestari was also awarded with the official certification for sustainable palm oil supply for biofuels, according to the International Sustainability and Carbon Certification (ISCC) standards within the European Union (EU). This certification also covers PT Harapan's entire operations, including smallholder plantations managed by Cargill under the KKPA scheme, mill and warehousing operations.
Cargill has been committed to responsible palm oil production in West Kalimantan since 2005, when it acquired PT Harapan Sawit Lestari. Since then, Cargill's operations in West Kalimantan, consisting PT Harapan Sawit Lestari and PT Indo Sawit Kekal, have expanded to close to 32,000 hectares of responsible oil palm plantations.
Having been a member of the RSPO since it was founded, Cargill is an active supporter of sustainable palm oil and hopes to encourage other producers to adopt more sustainable practices in view of the rising demand for sustainable palm oil amongst manufacturers and retailers.
In addition, Cargill supports efforts to help farmers adopt sustainable agricultural practices, improve land use, increase the quality and quantity of their crops, and promote safe and efficient working practices.
PT Hindoli, Cargill's palm oil plantation in South Sumatra, was one of the first plantations in the world to receive RSPO certification in February 2009, while smallholder farmers at PT Hindoli were among the first smallholders in the world to be certified under the new RSPO Smallholder Principles and Criteria.
###
About Cargill
Cargill is an international producer and marketer of food, agricultural, financial and industrial products and services. Founded in 1865, the privately held company employs 142,000 people in 65 countries. Cargill helps customers succeed through collaboration and innovation, and is committed to applying its global knowledge and experience to help meet economic, environmental and social challenges wherever it does business. For more information, visit Cargill.com and its news center.
About Cargill in Indonesia
Cargill began doing business in Indonesia in 1974 by establishing a feed mill in Bogor, West Java. Today, Cargill - which is headquartered in Jakarta – has over 8,000 employees and offices, manufacturing plants and facilities throughout the country. Business activities comprise animal nutrition, cocoa, grain and oilseeds, palm oil, and sugar. Cargill is a responsible corporate citizen of Indonesia, and its local programs foster responsible and sustainable development, help protect the environment and nourish the people and possibilities that reside in local communities. For more information visit www.cargill.co.id