Cargill at in-cosmetics 2014
19 March 2014, MECHELEN, Belgium – From 1st to 3rd April, Cargill will be present at the 2014 edition of in-cosmetics, the leading European tradeshow for personal care ingredients, taking place in Hamburg, Germany.
This year, Cargill's stand (4K15) will highlight how Cargill "helps customers thrive" by helping them grow, prosper and achieve their success measures. Thanks to its unique position in the industry, Cargill is a reliable and knowledgeable supplier of cost-competitive and innovative solutions for the personal care market. Specifically, Cargill's broad portfolio of nature-derived ingredients, expertise in texture design and technical services can help customers reformulate their products more naturally, create innovative textures that set them apart from competition and meet consumers' rising expectations.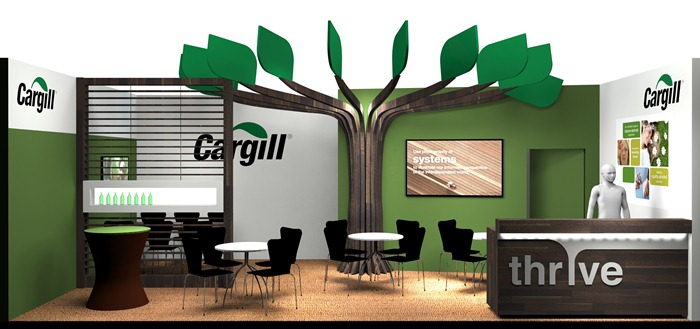 Pictured: The Cargill stand at in-Cosmetics 2014. The stand will highlight how Cargill "helps customers thrive" by helping them grow, prosper and achieve their success measures.
On the stand, visitors will be able to discover new solutions developed specifically for personal care applications from nature-derived ingredients, such as starches, carrageenans and alginates: "With consumers now seeking safer, skin-friendly products derived from natural and renewable resources, raw materials from the food industry appear as a source of reassuring ingredients," says Marie-Laure Roumiguière, Cargill's Personal Care Business Development Manager. "At Cargill we have over 100 years of expertise in food which, combined with our state-of-the-art personal care capabilities, makes us well-positioned to create delightful textures based on trustworthy ingredients, know-how and responsible manufacturing, just like any good food."
Texturizing beauty
This year's highlight is a newcomer in the C*EmTexTM range: an emulsifying starch derived from waxy maize which can be processed even under cold conditions. This O/W (oil in water) emulsifier is biodegradable, easy to use and can yield different kinds of textures: the rich, high body structure ideal for an anti-aging cream formulation as well as the light and non-greasy texture required for body milk. Visitors will be able to experience both, through concepts available for testing on Cargill's stand.
On display will also be Cargill's agricultural origin ethanol for pharma and personal care applications, featured in a skin-friendly hand-sanitizing gel enriched with SatiaxaneTM xanthan gum for a smoother texture. Cargill's pharma-grade ethanol is a neutral and stable ingredient with excellent organoleptics, fully compliant with the European Pharmacopoeia (Ph EUR) standards. Obtained from renewable natural resources, this highly purified ethanol is proposed in two grades (96% and 99.9%) and can be used as a sustainable ingredient in a wide range of cosmetic applications, such as perfumes, hair and skin care products, make-up and deodorants.
Sustainable success
In the framework of the show's educational program, on April 1st, at 13.10 in Theatre 2,Cargill's Personal Care Application Specialist Claire Duflot will hold an Innovation Seminar on "Nature-derived textures: the way to sustainable success", illustrating how to address formulation challenges by leveraging innovative texturizing solutions that meet consumers' needs.
To know more, visit www.in-cosmetics2014.com.
# # #
Cargill provides food, agriculture, financial and industrial products and services to the world. Together with farmers, customers, governments and communities, we help people thrive by applying our insights and nearly 150 years of experience. We have 142,000 employees in 67 countries who are committed to feeding the world in a responsible way, reducing environmental impact and improving the communities where we live and work. For more information, visit Cargill.com and our News Center.