Cargill to expand Morris, Manitoba, farm service centre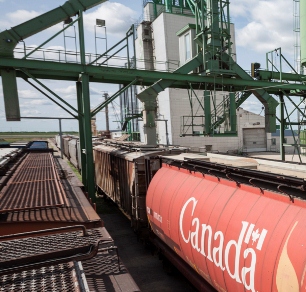 Pictured: Cargill's Morris, Manitoba, farm service centre.
WINNIPEG – Apr 09, 2014 – Within the next month, expansion is set to begin at Cargill's Morris, Manitoba, farm service centre. The expansion will include increases to both rail capacity and grain storage.
General Manager Richard Reynolds says the expansion should be welcome news for local producers as it will improve capacity in the surrounding area and will provide more long-term solutions to rail access. "This expansion will allow us to remain competitive in the region and help us better meet our customers' needs by allowing us to ship more grain," he said.
The expansion will increase grain storage by adding an additional 20,000 metric tonnes for a total of 30,000 metric tonnes. Rail car handling will increase from the current 54 cars to 100; which following this past year's record crop, is critical.
"Improved access to rail and increased storage capabilities remains a top priority," said Jeff Vassart, President, Cargill Limited. "We recognize the need for more storage and additional car spots for the entire value chain to maximize opportunity. By investing in our Morris location, we have an opportunity to efficiently manage how our grain will move and improve access to rail shipment."
Farmers currently being serviced at Cargill's Morris location will benefit by having improved opportunities to deliver grain throughout the year. "The decision to expand our Morris location was driven by our customers' needs. Physical assets are part of the solution. But, we believe we can be the best partner for our customers when we go a step further by providing solutions that help them meet their personal and business goals," added Vassart.
With the expansion Cargill anticipates increasing the number of employees on-site, but has not yet confirmed how many positions will be required. Construction is expected to be complete for the 2015 harvest.
# # #
About Cargill
Cargill is an international producer and marketer of food, agricultural, financial and industrial products and services. Founded in 1865, the privately held company employs 143,000 people in 67 countries. Cargill helps customers succeed through collaboration and innovation, and is committed to sharing its global knowledge and experience to help meet economic, environmental and social challenges wherever it does business. For more information, visit http://www.cargill.com.
About Cargill in Canada
Headquartered in Winnipeg, Cargill Limited employs more than 8,000 people in Canada, from British Columbia to New Brunswick. In addition to its diverse agricultural businesses, Cargill's Canadian interests include enterprises in the food, manufacturing, financial and risk management industries.