Cargill chief executive discusses role of responsible supply chains in future food production at Fortune Brainstorm Green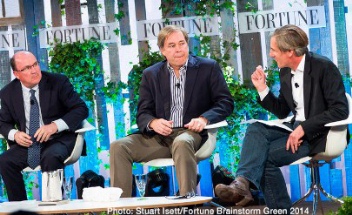 Cargill President and Chief Executive Officer David MacLennan with Jack Sinclair, Executive Vice President, Grocery Division, for Walmart U.S. (left) and Jib Ellison (right) moderator of the panel The (real) future of food..
LAGUNA NIGUEL, Calif. – May 20, 2014 – Speaking at the Fortune Brainstorm Green 2014 conference, Cargill President and Chief Executive Officer David MacLennan highlighted complexities and tradeoffs involved in producing more food, more sustainably as a growing global population becomes more urban and more prosperous. MacLennan commented on the implications of prices, changing diets and climate change on the future of food and cited some of the collaborative efforts in which Cargill is involved to address challenges inherent in producing food sustainably.
MacLennan was joined on the panel by Jack Sinclair, Executive Vice President, Grocery Division, for Walmart U.S. At Walmart's April 2014 sustainability summit, Cargill said that by 2020 it will bring more than one million acres in North America into its NextField™ precision agriculture system which helps farmers maximize productivity with minimum environmental impact.
Asked by panel moderator Jib Ellison what food companies should do to improve sustainable food production, MacLennan said: "Three things. Go faster. There are 900 million undernourished people in the world depending on us figuring out how to get them food. Be transparent. The world wants to know 'where's my food coming from, how was it made, how was it grown.' And don't be afraid to work in partnership, and that might be working with your competitors, NGOs, governments. We are one part of the supply chain. You need to work effectively and aggressively with the right partners."
The Fortune Brainstorm Green conference is a leading U.S. conference on business and the environment. In his remarks, MacLennan highlighted Cargill's efforts to improve sustainability across a diverse range of agricultural supply chains. He emphasized the need for the global food system to be resilient and adaptable in the face of the need to produce more food while protecting the planet.
###
About Cargill
Cargill provides food, agricultural products, financial and industrial products and services throughout the world. Together with farmers, customers, governments and communities, we help people thrive by applying our knowledge and approximately 150 years of experience. We have 143,000 employees in 67 countries who are committed to provide food to people in a responsible manner, reducing environmental impact and improving the communities where we live and work. For more information, please visit Cargill.com and News Center.