Cargill contributes $2.46 million to Canadian Feed Research Center
Dedication marks grand opening for one of the world's most advanced animal feed R&D facilities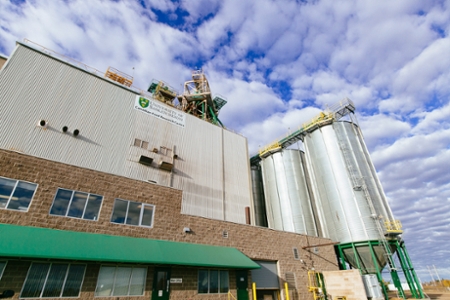 NORTH BATTLEFORD, SK – Oct. 27, 2014 – A grand opening ceremony on Friday, October 24, 2014, recognized Cargill's animal nutrition business in Western Canada for its $2.46 million contribution to the Canadian Feed Research Center (CFRC) in North Battleford. The ceremony was emceed by the University of Saskatchewan's Dean Mary Buhr, and attended by provincial and local government officials, university ambassadors, media and Cargill representatives.
The CFRC is a Canada Foundation for Innovation-funded research facility that will research, develop and commercialize new and better high-value animal feeds from low-value crops and co-products from bioprocessing and biofuels industries.
"The University of Saskatchewan's new CFRC provides an important resource that offers a broad range of research scale capabilities – from laboratory, to pilot plant, to industry-scale research – which is a major advantage in attracting commercialization and enhancing the competitiveness of our customers," said Jennifer Henderson, Managing Director of Cargill Animal Nutrition's compound feed business in Western Canada. "The University and Cargill have a longstanding partnership around common goals such as investment in research, the development of youth, and community investment. We are proud to be associated with the University and look forward to the capabilities the Center will offer the animal feed industry and producers."
The 15,650-square-feet of renovated Innovation Center space will employ four to eight research and development professionals that have more than 100-years of experience combined. Both graduate and undergraduate students will participate in research and gain advanced training for careers in the feed and livestock sectors. The Center is the first of its kind in North America to install new seed-sorting technology that promises to maximize value, quality and safety. Research at the CFRC is expected to increase processing of crops for animal feed. It is estimated that this increased processing could contribute more than $2 million to GDP through direct benefits to the crop and livestock industry and indirect benefits via employment.
The innovation center will also work closely with several other industry partners such as premix, additive and equipment suppliers, commodity groups, feed mills and livestock organizations. Funding sources are primarily a mixture of industry and government support.
"Feed accounts for 60 to70 percent of the production costs of animal protein such as meat, milk and eggs," said Tom Scott, University of Saskatchewan research chair in feed processing technology. "The Center will use processing and feed additives to improve conversion of low-quality and highly variable ingredients, such as feed grain or co-products of bioprocessing, ultimately resulting in safe, high-quality human food consistently and sustainably."
Cargill employs more than 530 people in 28 locations in the province. In the past five years, Cargill's capital investments in Saskatchewan exceeded $116 million. In addition to special contributions such as this one to the University of Saskatchewan, the company's Cargill Cares Council donates annually to organizations throughout the province that focus on food security and nutrition, education and environmental stewardship.
"We're excited about this relationship with Cargill because Cargill's aspirations to be the global leader in nourishing people are very much aligned with ours," stated Associate Dean Research and Graduate Studies of the University of Saskatchewan, Graham Scoles. "We believe that by working together – with Cargill and our other partners – we can meet the challenge of feeding the growing population that lies ahead. Cargill's generous support helps advance our focus on value, quality and safety for many years to come."
First conceptualized in 2009, the Canadian Feed Research Center came to fruition through a cooperative effort that included the Canada Foundation for Innovation, Saskatchewan Ministry of Agriculture and Western Diversification, which made contributions to build the $13.85 million Center.
"The Government of Saskatchewan is pleased to join with our partners in the establishment of this important research and training initiative that will greatly benefit Saskatchewan's agricultural industry," said MLA for North Battleford Herb Cox on behalf of Saskatchewan Agriculture Minister Lyle Stewart. "We appreciate our partners' contributions to this initiative and value Cargill's continued investments in the Province of Saskatchewan."
###
About Cargill
Cargill provides food, agriculture, financial and industrial products and services to the world. Together with farmers, customers, governments and communities, we help people thrive by applying our insights and nearly 150 years of experience. We have 145,000 employees in 67 countries who are committed to feeding the world in a responsible way, reducing environmental impact and improving the communities where we live and work. For more information, visit Cargill.com and our News Center.
About the University of Saskatchewan
Established in 1907, the University of Saskatchewan has a long history of excellence. We are a member of the U15 group of Canada's top research universities, offering unique facilities such as the Canadian Light Source, Canada's only synchrotron, VIDO-InterVac, one of the world's most advanced containment level 3 facilities, and the Global Institute for Water Security. Our graduates are known for their work ethic, resourceful nature and determination, and will continue to build on our history of success to address the world's challenges now and in the future.
About the Canadian Feed Research Center
The Canadian Feed Research Centre (CFRC) is a $13.9 million facility funded through partnerships between the University of Saskatchewan, the Canada Foundation for Innovation, Western Economic Diversification, Saskatchewan Ministry of Agriculture, and Cargill Animal Nutrition. The centre will be used to research, develop and commercialize high-value animal feeds, add value to marginal crops, and provide both graduate and undergraduate training to prepare students for careers in the feeds and livestock sectors.