Cargill Animal Nutrition launches Cargill Nutrition System
Platform combines "big data" nutrient-analysis capabilities, cutting-edge R&D and leading ingredient sourcing to deliver clarity in feed application
MINNEAPOLIS – Cargill is launching a new proprietary nutrient formulating platform, Cargill Nutrition System (CNS), which combines real-time global nutrient analysis of feed ingredients with the latest research into nutrient application and industry-leading ingredient sourcing to provide customers clarity and consistency in feed application.
CNS allows Cargill to deliver precise feed formulations to producers based on a host of variables often unique to each individual customer: species, climate, location, business goals, nutrient-content requirements and cost considerations of available ingredients. Ultimately, it helps Cargill bring nutrition solutions customized to meet specific customer needs faster and with the best cost formulation to boost profitability.
"Our customers operate in an ever-changing environment. CNS allows us to design products and solutions that take their unique and changing conditions into account and help manage them effectively," said Scott Ainslie, director of Strategic Marketing & Technology for Cargill's animal nutrition business. CNS combines 'big data' nutrient analysis, world-leading nutrient application expertise and Cargill's sourcing power to allow us to provide customers with clarity in feed application, rather than just a 'best guess,' to achieve better production costs and higher performance."
Recently, poultry customers in Indonesia provided a clear example of the impact of CNS. Through CNS' nutritional review process, it was discovered that by decreasing levels of crude protein and changing amino acid and fiber levels in poultry feeds, customers saw improved animal performance along with better feed cost per unit of production.
"By understanding species' specific nutrient requirements better than anyone else, we are able to consistently deliver improved solutions to our customers," said Henk Enting, poultry technology director for Cargill's animal nutrition business. "Without CNS, poultry would continue to be overfed a number of fermentable nutrients, potentially resulting in performance issues for the animal due to undigested nutrients, as well as unnecessary spending by our customers. As a result of changing the diet, customers in Indonesia saw a decrease in wet litter and feed cost savings.
CNS also had an impact on customers' businesses in Vietnam when the team there re-designed its sow offerings. "Using CNS, we reviewed our sow offerings and upgraded them with updated nutrients like fermentable carbohydrate to support better hormonal balance during gestation and reduce constipation. We also included a new ideal protein model (IPM) to support balanced nutrition based on sow requirements during gestation and lactation, and did work to stimulate mineral retention during gestation in order to promote mineral mobilization during lactation for higher milk production," said Jihoon Kim, Ph. D, and Strategic Marketing & Technology director for Cargill's feed business in Vietnam.
The new sow offerings were launched early last summer and customers already are reporting better performance including: decreased constipation in gestation sows, increased piglet birth weights, higher milk production during lactation for heavier weaning weights and healthier sows at the weaning resulting in shorter weaning-estrus intervals.
The database behind CNS is comprised of over 2 million nutrient samples, covering more than 200 ingredients, and 10 million annual nutrient predictions, and is constantly being refreshed. This data is combined with the vast knowledge and experience of Cargill Animal Nutrition's 17,000 employees, including more than 500 research and development professionals, with more than 200 Ph.D and veterinary degrees.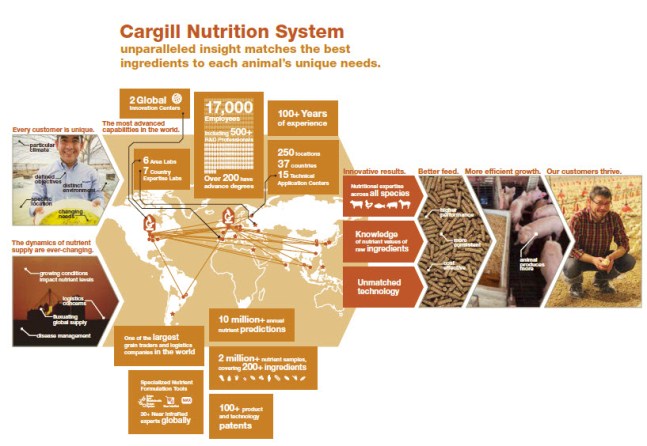 CNS is one of the many arms of Cargill's robust animal nutrition research and development unit. "CNS is a clear example of the significant role innovation will continue to play," said Dave Cook, Research & Development director for Cargill's animal nutrition business. "Research and development fuels the insights and innovations that our customers seek, and it enables us to continue to be our customers' trusted advisor. The rollout of CNS is a significant milestone for Cargill. We maintain a long-term commitment to research as we look to continually deliver pioneering solutions to our customers."
###
About Cargill
Cargill provides food, agriculture, financial and industrial products and services to the world. Together with farmers, customers, governments and communities, we help people thrive by applying our insights and nearly 150 years of experience. We have 145,000 employees in 67 countries who are committed to feeding the world in a responsible way, reducing environmental impact and improving the communities where we live and work. For more information, visit Cargill.com and our News Center.