Shady Brook Farms® turkey goes to school; provides new options to nourish K-12 students

Cargill brand offers USDA Process Verified Program; turkeys raised without antibiotics used for growth promotion, raised by independent farmers
WICHITA, Kan. - January 7, 2015 – Beginning with the 2015/2016 school year, K-12 districts throughout America, in addition to students who benefit from the lunches they provide, will have new protein choices due to pioneering efforts by the Shady Brook Farms® turkey brand. Employing a U.S. Department of Agriculture (USDA) Process Verified Program for large-volume turkey production, the Shady Brook Farms brand will offer high-quality, nutritious, wholesome, flavorful and affordable protein products to nourish school children.
These turkey products will not carry a premium price tag, enabling school districts and the USDA to better leverage their budgets and provide high-quality protein that meets students' nutritional needs. Importantly, Cargill will provide USDA Process Verified turkey for bulk commodity processing specifically for National School Lunch Program purchase.
In securing the use of a USDA Process Verified seal in mid-2014, Cargill's turkey business was required to create a program that will be audited and meets the following criteria for turkey:
Raised by independent farmers
Producers are trained on animal handling practices
No antibiotics used for growth promotion - antibiotics only used for treatment and prevention of illness.
Cargill's two major turkey brands, including Shady Brook Farms, are the first to offer turkeys raised without antibiotics used for growth promotion, which is aligned with U.S. Food and Drug Administration (FDA) Guidance For Industry (GFI) #209 and #213, seeking a voluntary reduction. The USDA Process Verified Program requires third party audits of farm practices, including animal handling by trained personnel, and detailed documentation for ongoing federal compliance.
"We know the USDA and school districts face ever-increasing budget challenges when they are trying to procure high-quality protein for lunch programs and we believe Shady Brook Farms will provide a turkey protein answer," said Jan Hood, assistant vice president of marketing for Cargill's turkey business. "Additionally, we know that parents place a high value on quality protein for their children. Consumer research we conducted last year tells us 62 percent prefer turkey raised without growth stimulants, including antibiotics used for that purpose. Our turkey produced as part of the USDA Process Verified Program should address those desires."
Cargill's 2014 nationwide consumer research revealed that, in addition to a desire for reduced growth stimulants in their turkey, consumers also expressed a strong preference for birds raised by independent farm families.
"Over 700 independent family farmers raise turkeys sold under our brands," explained Hood. "Most are families that have been involved with farming for several generations, and they take a great deal of pride in the turkeys they produce, ensuring the birds are properly cared for so consumers can have confidence when they enjoy Shady Brook Farms products."
During 2013 and early 2014, Cargill reformulated popular turkey items to reduce the sodium content for school year 2015/2016 as part of the company's overall effort to provide schools with turkey that helps meet nutritional regulations. The company's Shady Brook Farms school products will replace its Harvest Provisions® brand in the 2015/2016 school year, the latter having been previously marketed for school lunch programs.
"One of our core beliefs is that good food should be accessible to everyone, which is supported by the commitment we've made to school lunches, the students who eat them, the schools that provide them and the parents who want them," stated Hood. "We also believe that people who eat the food we produce should know how it is made and where it comes from. One of our goals is to provide greater transparency about how our turkey gets from farm to plate because consumers want to know. We are looking forward to engaging in the USDA bid process for the 2015/2016 school year that takes place during the first quarter of 2015."
Cargill is one of the leading turkey producers in the U.S. and has been providing turkey protein products to USDA's National School Lunch Program since 2011.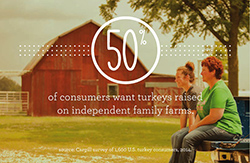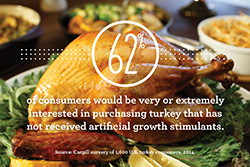 # # #
About Cargill
Cargill provides food, agriculture, financial and industrial products and services to the world. Together with farmers, customers, governments and communities, we help people thrive by applying our insights and 150 years of experience. We have 143,000 employees in 67 countries who are committed to feeding the world in a responsible way, reducing environmental impact and improving the communities where we live and work. For more information, visit Cargill.com and our News Center.