Cargill officially opens company's largest feed mill in Pyeongtaek
Seoul, Korea, 11 November 2015 – Cargill marked a significant milestone in Korea with the official opening of its Agri Purina feed mill plant in Pyeongtaek, reaffirming its investment in the country and signaling its continued commitment to sustainable growth of Korea's feed and livestock industry.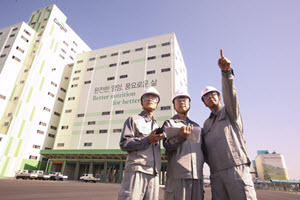 Cargill's feed mill in Pyeongtaek brings world-class productivity and efficiency to the market by providing customers with the best nutrition solutions and feed safety. This will help customers improve animal performance and grow their business.
The Pyeongtaek feed mill plant incorporates Cargill's uncompromising approach to feed safety, ingredient quality and product integrity. The company aims to provide customers with safe, trusted feed that maximizes the performance of their operations, which in turn helps to improve food safety across Korea's supply chain.
The nearly 52,610m² facility produces poultry, ruminant, swine and pet food products for animal producers marketed under the Purina & Nutrena brands. With a capacity of 870,000 tons, this facility is the Cargill's largest animal feed plant in the world. In addition to state-of-art technology, the new feed mill strives to achieve the highest standards of food safety to serve Korea's animal nutrition industry.
Dr. Bokyeun Lee, Korea country representative and president of Cargill Agri Purina Korea, said "Our customers expect us to keep innovating and adding value to their products, and this investment focuses on delivering for their success. The new feed mill will enable us to better serve our customers with advanced technology and high quality, safe animal feed. We work with governments, communities and partners to help build a sustainable feed industry with a long-term future."
Contact
Nikki Nam-Joo Kim, 82-31-710-6009, [email protected]
###
About Cargill
Cargill provides food, agriculture, financial and industrial products and services to the world. Together with farmers, customers, governments and communities, we help people thrive by applying our insights and 150 years of experience. We have 155,000 employees in 68 countries who are committed to feeding the world in a responsible way, reducing environmental impact and improving the communities where we live and work. For more information, visit Cargill.com and our News Center.
About Cargill Animal Nutrition
Cargill Animal Nutrition (CAN), a business unit of Cargill, provides customized animal productivity solutions to commercial producers across the Americas, Europe, and Asia. Rather than focusing on standardized nutrition products, CAN creates customized ingredient blends and management programs to fit the individual needs of its customers. CAN's research-proven management and nutrition technologies suit the specific needs of its customers while the industry and creativity of its animal nutrition and management experts offer solutions to meet the unique needs of each customer. For more information, visit: www.cargillanimalnutrition.com.