Innovate with more than just delicious chocolate and cocoa products
Differentiate in your market using more of the capabilities you only get with Cargill. Our T Model means you are supported by a dedicated team, alongside a process to capture and respond to your market needs.
Cocoa and chocolate expertise
Decades of experience in sourcing, manufacturing and nurturing the flavours of our cocoa and chocolate means you can trust in the consistency and reliability of our products across applications – from broad spectrum Gerkens® cocoa powders, prime pressed butters and distinctive liquors to premium single origin bars.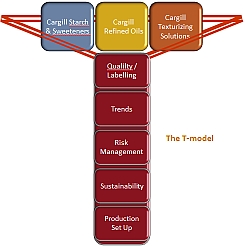 Extensive food industry know-how
You can rely on us to offer proactive advice on how cocoa and chocolate works with other ingredients across a range of applications, thanks to Cargill's extensive food industry know-how. And our global reach means ingredients and formulation expertise is closer to you at our seven Application Centers worldwide.
Value-engineering and product innovation
Be supported in creating more value from your products with multi-disciplinary formulation and process re-engineering to address your particular market challenges.
What's more, you can get assistance innovating in your market with services from ideation to delivery, from prototype support that enables you to test out products, or claim and labeling advice that helps you take advantage of the latest trends.
Protect the future of your business
We can help you protect the future of your business through supply chain and sustainability leadership – whether you want to add certification to meet consumer demand, or improve ingredients cost predictability with appropriate risk management tools that capitalize on our global market understanding and expertise.
Work with us on your innovation or value-engineering challenge and discover the specific ways the Cargill T Model can help you protect the future of your business.