Cargill celebrates new boxed beef distribution center at Kansas facility
Governor Brownback performs ceremonial ribbon cutting for the nearly $50 million investment

DODGE CITY, Kan. - January 20, 2016 – Governor Sam Brownback, as well as community, state and federal officials, joined Cargill's beef business leaders as they celebrated the opening of a nearly $50 million distribution center at Cargill's Dodge City beef processing facility earlier today. Around them, more than 9,000 feet of conveyor belts weave throughout the building, connecting to a row of towering shelves that stretch the entire height of the building. The shelving holds approximately 133,000, 60-pound, boxes of beef—the equivalent of 17,000 head of cattle. Crane-like devices can be seen in the background, moving boxes in and out of the shelves. Each day, the system stores an average of 40,000 boxes, while simultaneously shipping another 40,000 to Cargill's customers worldwide.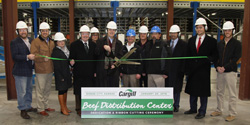 Governor Brownback performs ceremonial ribbon cutting for the Cargill new boxed beef distribution center in Dodge City.
This new automated system, increases capacity of the former system by 70,000 boxes, and will improve the facility's ability to keep highly perishable fresh meat products safe while awaiting distribution to Cargill's foodservice and retail customers in hundreds of destinations.
"I am honored to be a part of today's event as Cargill celebrates its new facility," said Kansas Gov. Sam Brownback, "This is a significant investment that illustrates the importance of agriculture to the Kansas economy and Cargill's commitment to Dodge City."
The project was announced in 2013, with construction beginning the fourth quarter of the same year. It replaces a distribution system more than three decades old and brings increased efficiency and better reliability for the operations that serve Cargill's food service, retail and processed foods customers. In addition to lower operating and maintenance costs, the new system is also more environmentally sustainable due to its improved energy use, which is aligned with the company's ongoing efforts to reduce the plant's environmental footprint.
"As customer requirements become more complex, we strive to maintain a reputation of exceeding their expectations. Our processing plant at Dodge City plays a key role in our beef business, and the new distribution system will help us retain our ability to promptly deliver the highest quality products to our customers," said John Keating, president of Cargill Beef. "We recognize that our success would not be possible without dedicated employees, and the people of Dodge City have long been exemplary of what it takes to provide the utmost quality beef products to help nourish people around the world."
"This facility employs more than 2,300 people from the local community, so this investment is not just about the business, it's also about a continued commitment to the people," said Sen. Jerry Moran. "I appreciate the ongoing partnership Cargill has with our fellow Kansans and its role in providing jobs to the community. Today, we share in the excitement surrounding this important expansion."
Cargill Beef is based in Wichita, Kansas. The Dodge City facility is the largest of six Cargill beef processing plants in the U.S. It was opened in 1979 and currently processes more than 5,400 cattle each day, distributing products across the nation and to seven countries worldwide.
# # #

About Cargill
Cargill provides food, agriculture, financial and industrial products and services to the world. Together with farmers, customers, governments and communities, we help people thrive by applying our insights and 150 years of experience. We have 150,000 employees in 70 countries who are committed to feeding the world in a responsible way, reducing environmental impact and improving the communities where we live and work. For more information, visit Cargill.com and our News Center.