Lecithins and Phospholipids
All of Cargill's lecithins and phospholipids are derived from natural sources; in particular, our lecithins are of carefully selected soy and egg origin. Our long-standing expertise in the extraction and purification of lecithins and phospholipids over a wide range of processes, technologies and industries allows us to develop specialized products optimized for our specific customers' applications.
With state-of-the-art production facilities plants in Germany, the Netherlands and the USA, we are able to ensure a fast and flexible response to our customers' requirements around the world.
Cargill's lecithins meet the specifications of USP/NF, when tested accordingly.

Brand names
Topcithin™ range – fluid lecithin
Emulfluid™ fluid hydrolyzed lecithin
Epikuron™ 135 fluid phosphatidyl choline-enriched lecithin
Ovothin™ 120 egg yolk extract
Epikuron™ 100 P deoiled lecithin
Emultop™ deoiled hydrolyzed lecithin
Epikuron™ 100 H hydrogenated lecithin
Epikuron™ 200 SH hydrogenated phosphatidyl choline-enriched lecithin
Epikuron™ 145 V / Epikuron™ 170 / Epikuron™ 200 / Ovothin™ 160 – deoiled phosphatidyl choline-enriched lecithin
Applications
Lecithins can be used in virtually all personal care product categories as they are highly versatile and have a number of different properties.
Skin care: creams and lotions. Lecithins and phospholipids fractions are well tolerated by the skin as either no or less emulsifiers are needed.

Hair care: shampoos and conditioners. Lecithins and phospholipids give a pleasant, non-greasy feel and a marvelous surface gloss.

Bath and body care: soaps. Lecithins and phospholipids reverse the drying effect of soap and the damaging effect of aggressive surfactants on the skin.

Color cosmetics: Lecithins provide an even dispersion of pigments and delay fat re-crystallization in the formulations.
Functionalities
Emulsifier
Dispersant
Moisturizing
Skin feel
Binding
Emollient
Refatting agent
Film forming
Restructuring
Hydrating
Soothing
Wetting agent
Adhesion improver
Stabilizer
Fat crystallization inhibitor
Hair gloss
Thickening agent
Liposome-former
Encapsulation
Phospholipids possess the fascinating capability to spontaneously form cell-like liposomes, used to encapsulate and help carry active ingredients directly to the skin cells.
Chemistry
Phospholipids are the active constituents of lecithins. The basic structure of phospholipids is shown below with the differentiation between polar and non-polar molecular regions, the classical structure of surface-active substances.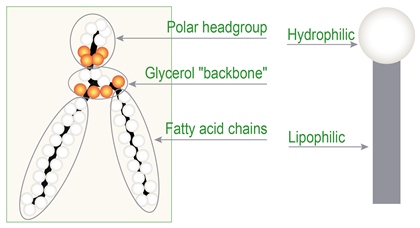 Phospholipids differ substantially in type of polar head group (see figure 2) as well as the length and saturation level of the fatty acid chains linked to the C1- and C2- positions.
MAIN PHOSPHOLIPIDS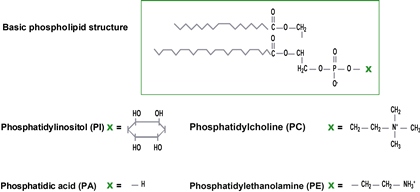 A distinctive variety of products can be derived through careful control and modification of the phospholipidic pattern.