A fresh perspective
A work-study program gives students a taste of the energy business and Cargill traders a fresh point of view
October 24, 2016
If you visit Cargill's North American Power & Gas office in Houston, Texas, you may see some young people helping out in the office.
They're high school students from the Cristo Rey Jesuit College Preparatory School of Houston. For the second time this year, the office is participating in Cristo Rey Jesuit's Corporate Work-Study Program, which allows Cargill to sponsor four students during the school year as they literally work their way into college.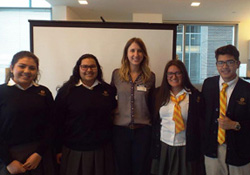 Cristo Rey students with their coordinator at Cargill's office in Houston. During these nine months, the students are paired with a Cargill mentor and assist on projects for Cargill's North American Power & Gas business.
The school, part of the Cristo Rey Jesuit Network, which consists of 32 high schools across the United States, offers preparatory education for 8,000 urban young people who live in communities with limited educational options. Cristo Rey Jesuit's charter is strongly aligned with Cargill's commitment to being a responsible corporate citizen.
"This program is great," said Erik David, a Cargill commercial management trainee who has mentored some of the students. "I would have loved the opportunity to gain exposure to leading companies in the energy industry early on. We hope to motivate the students by giving them worthwhile insight into our business and future career possibilities."
The students get real, hands-on experience in the energy business. For example, they've gathered natural gas data for analysis, which allowed Cargill traders to better understand optimum routes to markets. They've also performed side-by-side comparisons of market data from vendor subscriptions to help the analytics team better identify information gaps. They've even spent some time working with the Cargill Risk Management team, helping to put data into more useable formats.
"We've really appreciated their help, especially with gathering data for analysis to optimize our trades," said David. "And we've all benefited from their fresh new perspectives."
One of the students, Kevin Chavez, enjoyed the experience at Cargill so much that he came back for another stint.
"This experience has really opened my eyes into my future on what I want to do when I am older," he said. "Also this experience pushes me to want to study more about business and economy now and later in college."
For Cristo Rey Jesuit, the Corporate Work-Study Program is part of its recipe for student success. Again this year, 100 percent of the senior class secured enrollment in college, and about $9 million was raised to pay for tuition and scholarship fees for the students.