A high-tech approach to sustainable palm oil
Since the beginning of the year, Cargill has been working on a project in Indonesia using unmanned aerial vehicles, or drones. Now, the first pilots have earned their wings and the project is ready to take off.
September 09, 2015
In May, a small group of prospective pilots began training in Sandakan, Malaysia as part of Cargill's trial of unmanned aerial vehicles (UAVs), also known as drones. Over the course of four days, they were instructed how to plan missions, use the autopilot to program predetermined flight paths, gather and extract visual data, and create the photo mosaics that will ultimately serve as the raw material for maps. Cargill recently acquired the first two aircraft and, with a group of trained and certified pilots, we are now preparing for the operational trials.
The drones will be used to map and monitor land use and aid yield intensification efforts. They will also help Cargill respond to land use issues, promote conservation, increase plantation management transparency and aid in the identification of High Carbon Stock (HCS) and High Conservation Value (HCV) forest areas. Because they are much cheaper to operate, quicker to deploy and less hampered by occasional cloud cover than the satellites that have traditionally been used for this kind of work, the drones will aid our progress towards fulfilling the promises outlined in our July 2014 palm oil policy.
"It's a combination of flying skills, electronics knowledge, photographic techniques and geographical information gathering," said pilot Budhi Pramono, a geographic information systems assistant from Cargill's PT Hindoli plantation in Indonesia. "You have to understand all of them to be able to conduct a mission."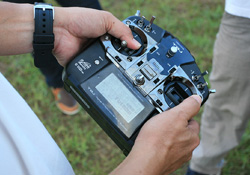 Drones are more cost-effective to operate than satellites and can be deployed quickly. The first drone in Cargill's fleet is the Skywalker UAV, a six foot long, battery-powered, fixed-wing aircraft that can handle a 2 kilogram payload and deliver images with 10 centimeter per pixel resolution.
The drones' potential sustainability applications are wider-ranging than just mapping the HCS and HCV lands we pledged to protect in our palm oil policy. For instance, they can be sent aloft on short notice to inspect tree health, or gather agronomic data that will help manage the plantations more effectively.
"We can now deliver aerial photography whenever it's needed and represent accurate and current information," said Tarmizi Lakoni, another trainee. "Our agronomic practices will benefit from tree counts, better topographic data and improved detection of nutrient deficiencies."
Drones by themselves do not equal sustainability, noted John Hartmann, chief executive officer of Cargill Tropical Palm. What counts, is how you use them. "We always talk about transparency, traceability and being accountable for what we do. It's important for us to mean what we say and to act accordingly. That's what this is all about."