A new approach to increasing cocoa farmers' skills and knowledge
From group training to 1-to-1 coaching
February 21, 2017
The Cocoa Coaches will assess farmers' current techniques and help them develop bespoke Farm Development Plans to highlight the best ways to optimize productivity on their farms. They will then support each farmer's implementation of these unique plans, to ensure they achieve the best results. All our Coaches are lead farmers who have participated in Cargill's Farmer Field Schools for many years.
From group training to one-to-one coaching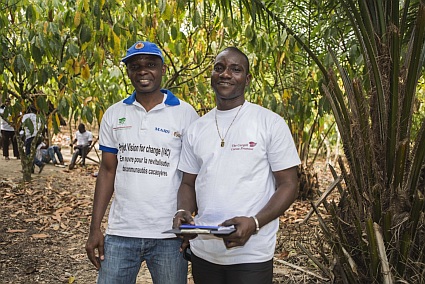 90,000 farmers attended 2,700 Farmer Field Schools in 2015. As part of our stronger focus on results, we have looked at how our training model is translating into action in the field. We have got to know our farmers better, listened to their needs and we now believe the time is right for a more tailored, ongoing approach to farmer training, to supplement our Farmer Field Schools, which have been running since 2008. Our new one-to-one coaching will help to deliver better results on the ground and improved farmer livelihoods.
"We are talking about training 1,000 successful members of the cocoa growing community to become Cocoa Coaches in Côte d'Ivoire alone. They will work with around 70,000 farmers individually, 70 per coach, to help them optimize cocoa farm productivity. Together, the coach and the farmer will develop through on-farm assessments individual Farm Development Plans." Gildas Loukou, Cargill Farmer Training Coordinator in Côte d'Ivoire
"In the long term, our aim is for all farmers in our supply chain to receive direct coaching, and create and implement their own Farm Development Plans."
Through the eyes of the Cocoa Coach
Armand Fulgence is training as a Cocoa Coach at our Yamoussoukro Farmer Field School. "Since I completed the Cocoa Coach training, I can see very quickly where the problems are on a particular farm. I can easily make a diagnosis through the assessment tool and make clear recommendations in the Farm Development Plan. That is a source of great pride for me. If the producer has a yield increase in the future, I will be happy to have shared my skills to benefit others."
Securing a stronger supply of certified cocoa
Ultimately, we want the farmers we work with to become a self-sustaining part of a thriving cocoa sector. Our key aims, through coaching, are to enable more farmers to meet the sustainability requirements of certification, and to benefit from each other's knowledge of good agricultural practices by applying the most necessary elements to their own farms.
Thanks to the technology used to develop and roll-out our Monitoring & Evaluation system, we will keep track of farmers' progress towards their Farm Development Plans. Our approach will help to secure a stronger, more transparent supply of high quality, sustainable cocoa for our customers.
1 March, we will publish the progress we have made in our 2015 Cargill Cocoa Promise Global Report.It will include information on how our thinking has evolved and how our approach to improving farmer livelihoods is changing.
Request a printed copy of the summary report by contacting us