Catalyst for change. Cargill lawyers help protect the rights of street children globally.
By Isabel Dimitrov June 15, 2016
A packed room of 38 beautiful faces – ages 7 to 17 – sitting cross-legged on cushions on the floor. There are posters around the room made by the children. There are pictures of their images of development, survival, safety and empowerment.
This was the scene that awaited Yannick Vennekens, a Cargill lawyer based in Belgium, when she travelled to Delhi, India, to take part in a UN consultation with street children from India, Bangladesh and Nepal.
An indeterminable number of children live, work or depend on the street for food, shelter and survival. Street children have a broad range of experiences. Some live on the street without families. Others are refugees or victims of exploitation or poverty. All of them have a strong connection to the street. Tragically, basic human rights guaranteed under international law are frequently denied to these children.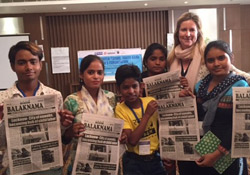 Cargill lawyer Yannick Vennekens, pictured with the participants of a UN consultation with street connected children in Delhi, India. Under the helm of the Consortium for Street Children, street children took part in consultation events around the world to tell their life stories. The UN will use these stories to provide essential guidance to governments on how they must meet their obligations to street children under the UN Convention on the Rights of the Children – the key piece of international law on children's rights.
Cargill played a critical role in supporting this effort. Twelve members of the law department in the company's Europe, Middle East and Africa region dedicated significant personal time to legal research on the rights of street connected children in India, Bangladesh and Nepal. Their research will be used by the UN when drafting its guidance to world leaders. Cargill, together with the law firm Baker & McKenzie, also sponsored the South East Asia consultation. As the consultation in India unfolded, the children shared their challenges:
Access to clean water and shelter.
Access not only to food, but to a nutritious meal.
A craving for identity.
A desire to break out of a vicious cycle to access education.
A daily struggle between working to make a living and going to school.
Reflecting upon the consultation, Vennekens said, "To say it was a life changing experience does not do it justice. These children shared their stories and challenges and showed us how the human spirit can overcome even unimaginable circumstances and how we, as a society, must help to make those circumstances better."
Jemma Collins, a Cargill lawyer based in Geneva, spearheaded Cargill's involvement. "By contributing to this project, Cargill has accepted a once in a lifetime opportunity to be at the forefront of improving the living standards of some of the most vulnerable people in our communities. Our lawyers will be making a real difference in these children's lives by championing their right to access clean drinking water, nutritious food and basic education."
Cargill's deputy general counsel, Neal Sawatzke, confirmed why the team of lawyers across EMEA have been so passionate about taking part in this project. "While we've long engaged in community service, this is the first of its kind to use our legal skills. This initiative enabled our lawyers to use their legal skills to influence laws and policies that will truly enrich our communities by protecting the rights of street children, including their right to access education and nutritious food."
The UN will issue its guidance in 2017.